Apr
15
Sat
Sloatsburg Easter Egg Hunt

@ St. Mary's Church Villa
Apr 15 @ 1:00 pm – 3:00 pm
Spring will arrive just in time for the annual Easter Egg Hunt for Village of Sloatsburg Children at St. Mary's Villa. The festive afternoon celebration and egg hunt takes place Saturday, April 15, at 1 p.m. Sponsored by the Sloatsburg Recreation Department, the event is a local rite of passage for springtime and for local pre-school, kindergarten and elementary school-aged children.
The event will take place in if there are cloudy skies and a bit of rain. So, get out and enjoy.
150 Sisters Servants Lane, Sloatsburg, NY.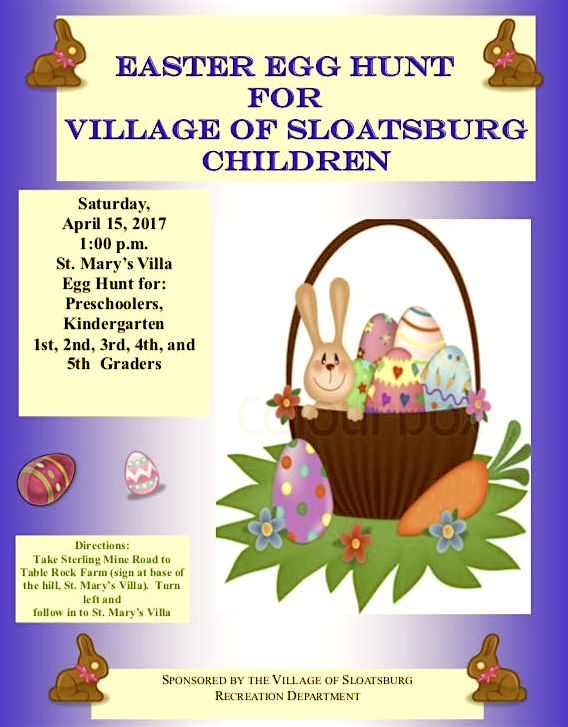 Apr
22
Sat
Sloatsburg Community Cleanup

@ Sloatsburg Municipal Building
Apr 22 @ 11:00 am – 2:00 pm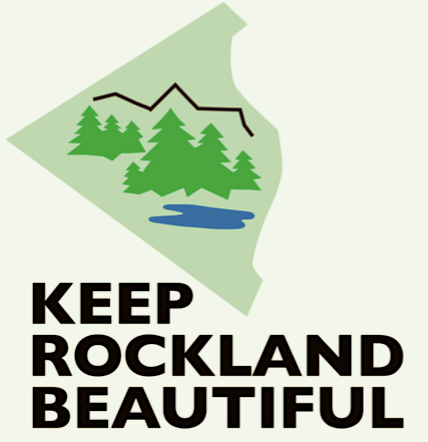 Join in to Keep Rockland Beautiful on Sunday, April 22, when Sloatsburg community members join as part of the Great America Cleanup effort. Volunteer will meet at the Municipal parking lot at Village Hall at 11 a.m. for a day of cleaning up.
Earn community service hours. Refreshments and supplies will be provided.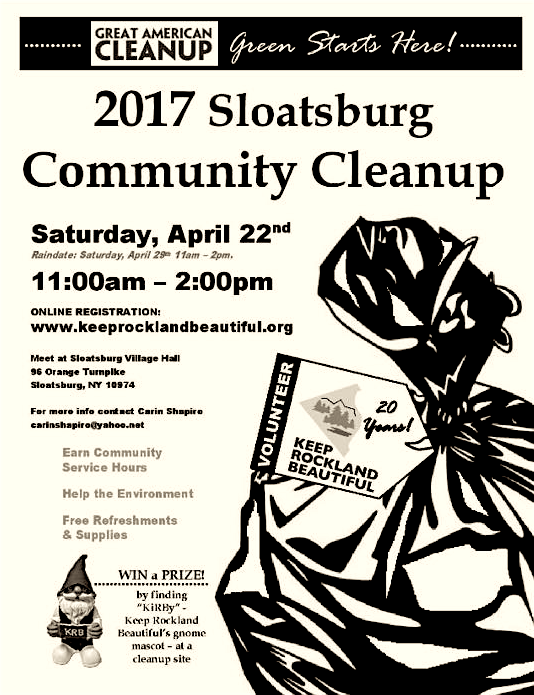 Bruce Price Lecture

@ Tuxedo Historical Society
Apr 22 @ 3:00 pm – 4:00 pm
Save the date for this one … a lecture on Bruce Price, the architect extraordinaire of Tuxedo Park. That constellation of  A-frame houses down by the Tuxedo Park Library — also Bruce Price designs.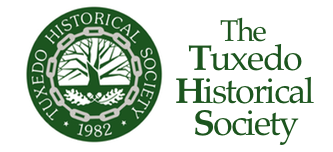 The Tuxedo Historical Society sponsors a talk by architectural historian and writer Francis Morrone, who will discuss  Bruce Price's enormous impact on the architecture and character of Tuxedo Park and the surrounding area. A professor at New York University's School of Professional Studies, Morrone has written eleven books on the architecture and history of New York City, as well as architectural guidebooks to Philadelphia and to Brooklyn. He is the recent recipient of the Landmarks Lion Award for lifetime achievement in historic preservation in New York City.
Refreshments will be served.