Jul
9
Sun
Family Day

@ Sloatsburg Community Pool
Jul 9 @ 12:00 pm – 5:00 pm
Sloatsburg residents are invited to a day of pool fun and chill.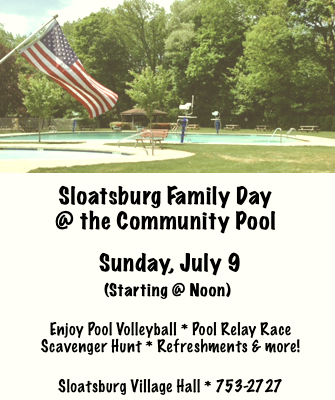 It's the annual Family Day at the Sloatsburg Community Pool, set for Sunday, July 9. The pool opens at noon.
The afternoon is sponsored by the Village of Sloatsburg and allows all Sloatsburg residents a free day at the Community Pool with friends and family.
The event has grown to include an assortment of kids-centric and family events, including pool relay races, big splash contest, water balloon toss, and more.
Refreshments are scheduled to be served between 2:30 p.m. and 3:30 p.m.
Propane grills are allowed in designated areas only.
Call the Sloatsburg Village Hall at 845.753.2727 with any questions.
Jul
10
Mon
Sloatsburg Chamber Sign Up

@ Characters Bar and Restaurant
Jul 10 @ 7:00 pm – 8:00 pm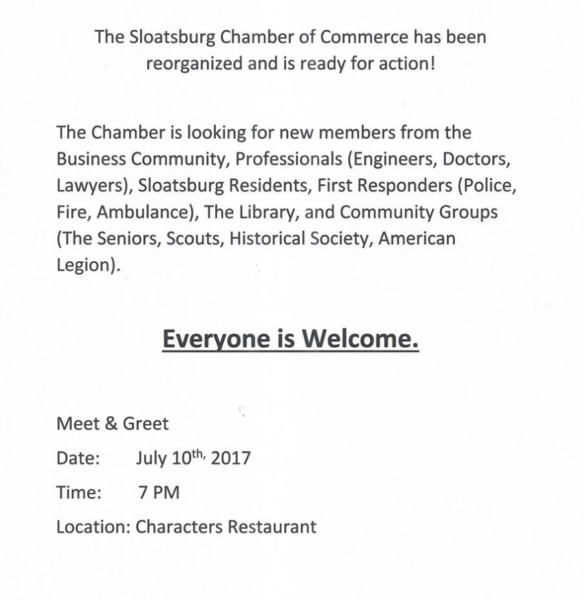 If you're interested in getting involved through the Sloatsburg Chamber of Commerce, well, get started Monday, July 10, at Characters at 7 p.m. Come out to join in on things Sloatsburg and around the area. The floor will be open for members to discuss all things Sloatsburg. Open to community and businesses members, residents, organizations, groups, all to get together and collaborate through a local Chamber effort.
The floor will be open to discuss identity, events and opportunities.
Contact Susie McDonagh for information on how to get set up as a Chamber member. Call 845.406.2230.