Mar
13
Tue
NYSDOT Informational Meeting

@ Sloatsburg Village Hall
Mar 13 @ 7:00 pm – 8:30 pm
The Village of Sloatsburg, in partnership with the New York State Department of Transportation Region 8, will hold a public informational meeting on Tuesday, March 13, at 7 p.m. at the Sloatsburg Fire Hall.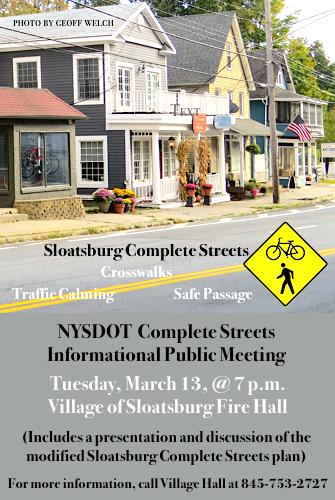 The NYSDOT will officially present its proposed Complete Streets plan to Sloatsburgers and others, a modified version of the Option 2 Road Diet from June 2017. The Complete Streets project through Sloatsburg includes a complete re-paving of Route 17 through Sloatsburg as well as other roadway improvements.
Sloatsburgers and those who live in the corridor community are encouraged to attend and participate in the roadway discussion.

Mar
18
Sun
Vernal Equinox Celebration

@ Harmony Hall
Mar 18 @ 2:00 pm – 4:00 pm
When the clocks spring forward near mid-March that means the Vernal Equinox has arrived. Join Harmony Hall Curator Geoff Welch on Sunday, March 18, from 2-4 p.m. when he hosts an afternoon celebrating the Vernal Equinox — traditionally celebrated as the first day of spring, when night and day hours are evenly divided.
Days continue to lengthen after the March equinox, through spring and into summer. The free Harmony Hall event is presented by the Town of Ramapo and Friends of Harmony Hall.
Look for this year's event to feature live, original music and nature photographs of the surrounding Highlands region.
Harmony Hall is the original name for the Jacob Sloat House, designed and built by the man himself back in 1848. The mansion is listed on the National Registry of Historic Places and is a wealth of cultural and community activity. The Friends of Harmony Hall is the member organization that works behind the scenes to promote Harmony Hall, the history of Sloatsburg, and its place as part of New York's Ramapo River Pass and Highlands environments.