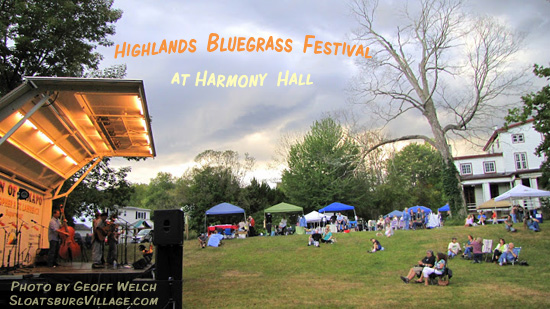 The Highlands Bluegrass Festival on the Great Lawn of Harmony Hall kicks up its heels Sunday, September 20, from 1 to 6 p.m. in Sloatsburg, NY.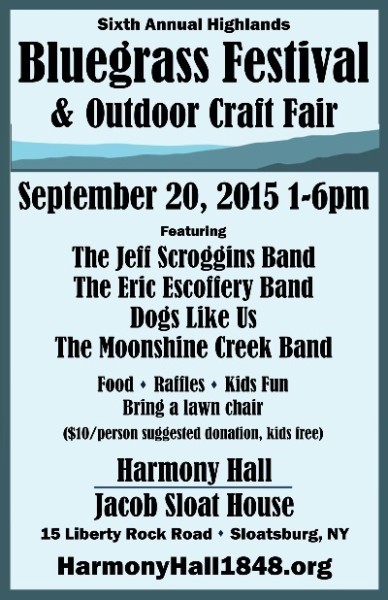 The event, including most parking, is free with a suggested donation to help raise funds for Harmony Hall and to keep the music going. What's $5 or $10 — that's the cost of a beer in the big city.
Now in its 6th year, the day-long Highlands Bluegrass Festival has become an important event for the corridor parks region, drawing both a local crowd and visitors from across the Lower Hudson Valley. The selection of musicians and bands also ranges from nationally known bluegrass brands to local players eager to show their stuff to the crowd at the big stage.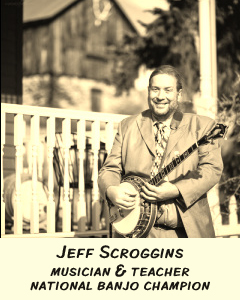 Geoff Welch has curated the Highlands Festival music since it's first year, with a nice selection of finger pickers and jammin' –this year's bill includes the Eric Escoffery Band  Garcia &  Grisman Tribute, Dogs Like Us, and bluegrass master Jeff Scroggins with his many Friends. The local group Moonshine Creek Bluegrass Band was a late addition but will undoubtedly make hay while on stage.
The Highlands Bluegrass Festival will also feature an assortment of craft and food vendors. Sponsored by the Town of Ramapo, with essential help from Rockland County, the event is the product The Friends of Harmony Hall — a non-profit Sloatsburg organization that helps raise funds and awareness for the renovation and operation of the Jacob Sloat House in Sloatsburg, NY, a Ramapo National Historical Registry treasure.
This year's Highlands Bluegrass Festival celebrates the life and music of fiddle player extraordinaire Sue Cunningham, who passed away on September 3, 2015. Cunningham was the headline act at the 2012 Highlands Bluegrass Festival, and again in 2013 with the Rowan Cunningham Band, helping to establish the Sloatsburg event as a player on the bluegrass music circuit.

Cunningham was raised in a musical family and has been involved with music since she was five years old, becoming the centerpiece of the The Flying Cunninghams in the early '80s — a bluegrass band with brothers Steve on bass and Tom on guitar. A three-time Florida Bluegrass Fiddle Champion, she gained national recognition as a fiddler and fiddle instructor, going on to have a successful musical career that included the Hickory Project.

Though music was her passion, Cunningham worked full-time as an engineer, most recently at Florida Turbine Technology in Jupiter, Fla. She earned a Ph.D. in mechanical engineering from Carnegie Mellon University and an executive MBA from Massachusetts Institute of Technology.

A look back at the 2012 Highlands Bluegrass Festival and twang and mournful sounds of headliner Sue Cunningham's fiddle work.