Sloatsburgers last got together some seven months ago to discuss the on-going Complete Streets project with the New York State Department. The Fire Hall at the Sloatsburg Municipal Building was packed with excited residents abuzz about the opportunity for transformative change along Route 17 through the village.
The NYSDOT Region 8 is set to provide a Sloatsburg Complete Streets Project informational status update to the Village Board at the Municipal Building on Tuesday, February 13, at 6 p.m. The meeting is open to the public. Plan to attend if you'd like to get information on the project status.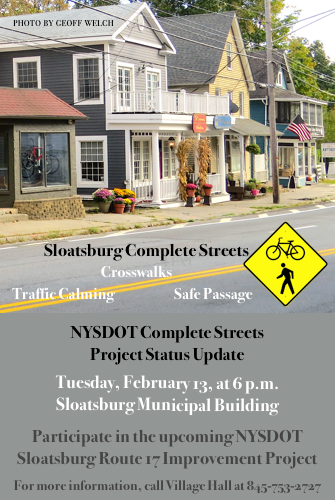 At the that June meeting, residents got a look at the tentative NYSDOT plan, complete with roadway schematics of the Route 17 corridor, which included, among other items:
• a road diet that would convert parts of Route 17 into two lanes of traffic with dedicated center turn lanes
• expanded and improved curbs and sidewalks
• state-of-the-art crosswalks that would finally provide safe passage across the main street
• some street side parking and landscaping in the center village
• reconfigured bus lanes
• a Mill Street bicycle diversion route
• 3 AST (Adaptive Signal Technology) traffic lights that react in real time to traffic conditions to keep drive time traffic flowing through the village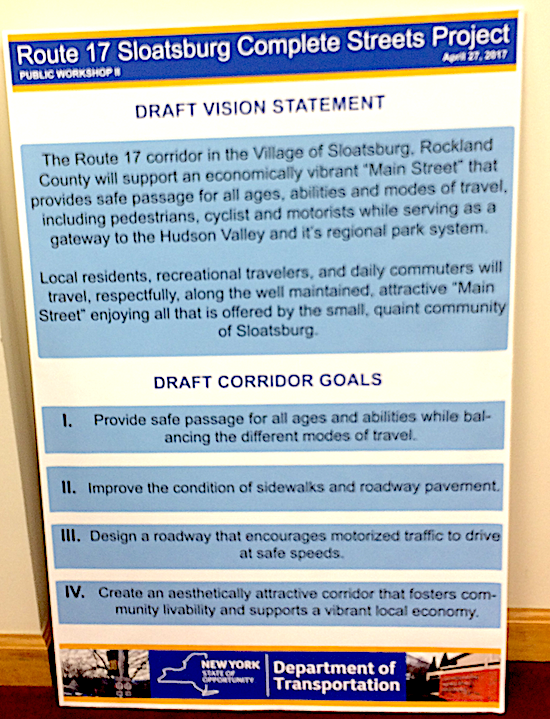 Sandra Jobson from the NYSDOT led the June meeting and noted the energized room and obvious excitement about the project, and announced that the NYSDOT expected to return in the fall of 2017 with a finalized plan for "what can be reasonably built with the $4.6 million" in total funds dedicated to the project. Construction was identified to begin sometime in September of 2018, with an anticipated ten month build out.
An early October 2017 Public Meeting was set to go over the final project plan but then postponed reportedly to mid-November 2017. That final meeting was never scheduled and then there was radio silence on the project.
Now, those residents waiting in anticipation for information and updates on the Sloatsburg Complete Streets project should mark their calendars. NYSDOT officials will attend a Tuesday, February 13, Village Board meeting to provide an informational update on the project. The status update is scheduled for 6 p.m. at the regular Village Hall board room and the public is encouraged to attend.
Contact the Village at 845-753-2727 with questions or for more information.