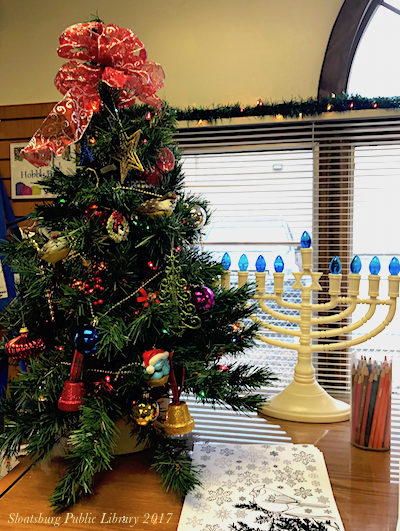 Notice: Due to Saturday's winter weather advisory, the Sloatsburg Library Holiday Craft & Vendor Fair has moved to Sunday, December 10. Same time and place.
Grab a coat and get down to the Sloatsburg Public Library Craft & Vendor Fair on Saturday. The special holiday event takes place at the Sloatsburg Senior Center December 10, from 10 a.m. until 4 p.m. and features some 20 vendors, selling holiday and other custom crafts and foods.
If you have an extra or older winter coat that you'd like to give away, the Sloatsburg Library and Valley Rock Inn & Market are hosting a winter coat fundraiser this weekend. For every winter coat donated, Valley Rock Inn will contribute $20 to the Sloatsburg Library.
The @SloatPubLibrary holds a holiday Craft & Vendor fair on Sat, December 10, at the Sloatsburg Senior Center. Join w/Sloatsburg's Valley Rock Inn for a weekend Festival of Lights celebration – bring an old coat to donate for a special Library fundraiser. https://t.co/YHYy39MDfA pic.twitter.com/9UpHFNpmDp

— Sloatsburg Village (@Sloatsburgny) December 8, 2017
"I think it is wonderful of Mr. Bruno to do a fundraiser for the library," Library Director Annmarie McAnany said about the continued support Mr. Bruno has shown the Sloatsburg Library. McAnany said that the coat fundraiser is also a way to reach out to families in need.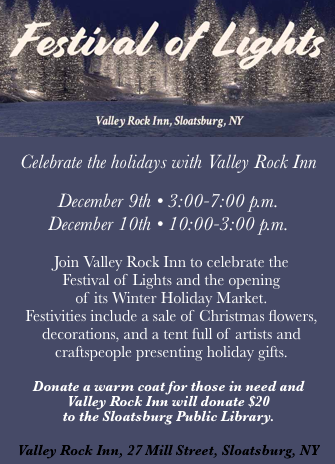 Mr. Bruno, owner of Valley Rock Inn and a successful entrepreneur who lives in Tuxedo Park, has lighted up Sloatsburg's Route 17 corridor this holiday season, covering the cost of an impressive light display that includes some of Sloatsburg's tallest evergreen trees along the the route.
"His generosity is very much appreciated and it shows true holiday spirit," McAnany said. "We are very excited to see the beautiful light display that is turning our little village into its own Winter Wonderland!"
Valley Rock Inn hosts a Festival of Lights celebration on Saturday and Sunday, December 9 and 10, that will also feature a sale of Christmas flowers, candles and holiday decorations, and a tent full of artists and craftspeople presenting one-of-a-kind holiday gifts.
The Valley Rock holiday festivities get underway on Saturday, from 3-7 p.m., where Valley Rock hosts a community event complete with champagne and hors d'oeuvres.
Sunday's Festival of Lights and Winter Market celebration takes place from 10 a.m. to 3 p.m.
Warm winter coat donations will take place at Valley Rock throughout the weekend.