Sloatsburgers helped light up the Village recently with the annual caroling and tree lighting ceremony. Now the folks at Valley Rock Inn & Market have invited the community to join in a weekend Festival of Lights celebration that is sure to turn the lights even brighter.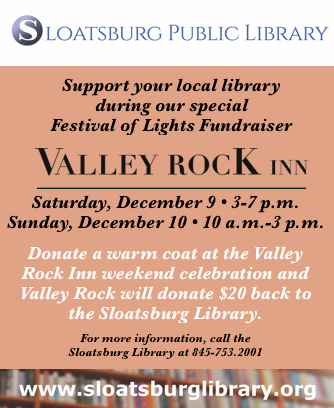 The holiday festivities get underway this weekend, December 9 and 10, at Valley Rock Inn and are part of its Winter Holiday Market kickoff. On Saturday, from 3-7 p.m., Valley Rock will host a community event complete with champagne and hors d'oeuvres.
There will be ponies to pet for the kids, a big sale of Christmas flowers, candles and holiday decorations, and a tent full of artists and craftspeople presenting one-of-a-kind holiday gifts.
With the weather still unseasonably warm, think about donating a used winter coat for those in need. Valley Rock Inn will hold a weekend coat fundraiser for the Sloatsburg Public Library — with each coat donated, Valley Rock Inn will donate $20 to the Sloatsburg Library.
"I think it is wonderful of Mr. Bruno to do a fundraiser for the library while reaching out and helping families in need," said Sloatsburg Library Director Annmarie McAnany. "His generosity is very much appreciated and it shows true holiday spirit! We are very excited to see the beautiful light display that is turning our little village into its own Winter Wonderland!"
The Sloatsburg Library will also be holding its own Holiday Craft & Vendor Fair at the Sloatsburg Senior Center on Saturday, December 9, from 10 a.m. to 4 p.m.
#Sloatsburg is especially lit up for the holiday season this year, thanks in good part to the efforts of Michael Bruno and the folks at Valley Rock Inn. The clip shows the Valley Rock Bike Shop at the Sloatsburg Commuter Lot. @tuxedochamber pic.twitter.com/c1XxbKb8Hw

— Sloatsburg Village (@Sloatsburgny) December 5, 2017