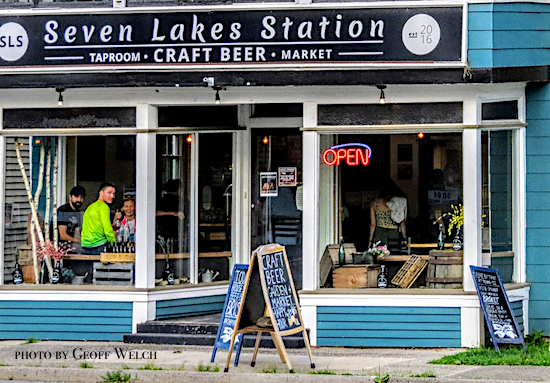 One of Sloatsburg's favorite hangouts has doubled down on its recent success. The popular Seven Lakes Station craft beer taproom and market expanded over the summer to include an outdoor beer garden and renovated indoor lounge room.
Established in September of 2016, Seven Lakes Station in Sloatsburg, NY, found fast footing and lots of craft beer fans under the guidance and enthusiasm of owners Martjin Mollet and Jaime Lovelace. Seven Lakes has provided a clean, well lighted spot in the village center that attracts beer lovers from around the area. And with an eye toward seasonal and weekend hikers in Harriman State Park, Martjin and Jaime fast-forwarded their taproom vision by reclaiming indoor space and adding a fenced-in back beer garden.
The backyard beer garden speaks for itself, complete with a fire pit and picnic tables that welcome weekenders and locals who want to take advantage of the weather. The lounge offers a quiet place for customers to gather while the main taproom has benefited from timber shelf upgrades at the front tables.

(A look at the new Seven Lakes Station beer garden at night. Sloatsburg, NY.)
With a lock on the best seats in Sloatsburg to view the alway lively thread of traffic through Sloatsburg along Route 17, Seven Lakes offers a wide selection of craft beers, good cheer and periodic live music and other events.
The taproom opening in September 2016 just in time for the Highlands Bluegrass Festival at Harmony Hall, and will once again offer music lovers an opportunity to stop in when thirsty this Sunday, September 10, from 1 p.m. to 6 p.m.