Suddenly it seems everyone wants to be a gateway to the parks and lay claim to the vast network of New York State trails and vistas in and around Rockland and Orange Counties.
The corridor communities of Suffern, Sloatsburg and Tuxedo each boarder Harriman State Park and offer easy access for visitors to ride the rails and hop onto trails, especially Sloatsburg, where on any given weekend during the season cars long line both sides of Seven Lakes Drive at the Reeves Meadow Visitor's Center. A look at the new Trail Conference Harriman map shows the corridor region surrounded by green space, with Sloatsburg occupying a plum position, backside nestled snuggly abutting Datur Mountain Nature Park – county parkland – and Harriman State Park.
Yet, if one were to disembark from the Sloatsburg Train Station and step onto Mill Street, that person would be hard pressed to find any signage, direction, indication, or local communication that he or she has entered a prime park gateway community.
With some 52,000 acres and hundreds of miles of trails, Harriman provides an opportunity for surrounding communities to create trail-friendly programs and services that then act as further magnets that attract seasonal visitors — think of Hudson Valley river towns and villages. Tuxedo is also bordered by Sterling Forest State Park, another 22,000 acres and trail miles of Ramapo Mountain magic.
There is a sort of great awakening underway in the corridor communities that sees value in the creation of park-friendly programs. To borrow from MyHarriman.com, people want a cup of community with their coffee.

Suffern Chamber of Commerce new 30-second promotional spot.
The Suffern Chamber of Commerce is working with the NY/NJ Trail Conference to promote surrounding park hiking, biking and climbing activities, while offering up the attendant Suffern dining opportunities along Lafayette Avenue. Tuxedo is about to experience its first ever Base Camp Tuxedo at the town's charming Train Station, which is fast becoming a sort of hive for community gatherings. The brainchild of MyHarriman's Suzy Allman, and a joint effort with the Tuxedo Chamber of Commerce and the first in a series of such events, Base Camp is designed to create community and spark Tuxedo's trail-town vibe.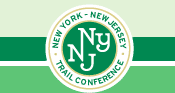 The "Speakers and Suds" evening will be a loose gathering that features the Trail Conference's Sona Mason, who will discuss the trails surrounding Tuxedo.
The Trail Conference itself declared its new Darlington School House headquarters in Mahwah, NJ as the entrance point to the surrounding parks and trails.
Tuxedo Farms, should shovel ever break ground, wants to attract people who'd like to re-imagine life in the Ramapo Mountains, surrounded by green space and smart transportation hubs — which Tuxedo and Sloatsburg and Suffern offer via those now quiet MTA trains that slide up and down new tracks, taking commuters from Penn Station to Port Jervis.
It's interesting, and timely, that students in Suffern High School's AP Environmental Science classes spent much of the school year re-imaging downtown Suffern as part of Rockland PLUS, a countywide high school partnership with Columbia University Lamont-Doherty Earth Observatory, Keep Rockland Beautiful, Rockland Community College and the Rockland Conservation & Service Corps.
The AP Environmental Science students looked at ways to redevelop downtown Suffern to boost bus and train ridership and make the area more accessible to bicyclists and pedestrians, with the PLUS challenge focused on leveraging mass transit to create healthier, more economically and socially vibrant communities.
That emphasis on more pedestrian-friendly village centers featured transportations hubs as catalysts for change — connecting commuters to bus routes or walkways or restaurants along Lafayette Avenue. The students recommended sidewalks and solar panels, a reduced paved footprint, and even hybrid electric car parking, possibly with power plugins.
The implied consensus is that people enjoy a cup of community with their coffee. From rails to trails, Western Ramapo communities are beginning to leverage their ample state and county park assets to redefine and re-energize local economies.