The Village of Sloatsburg Board opted to explore options more before making its Complete Streets recommendation. Sloatsburg Mayor Carl Wright announced at the past Tuesday, May 23, board meeting that Trustees John Bonkoski and Tom Buckley wanted to meet with the New York State Department of Transportation Region 8 Complete Streets team, led by Sandra Jobson, to gather more information on the options being presented to the Village.
The NYSDOT Region 8 team will hold a Village Board workshop session Tuesday evening at Village Hall at 6 p.m. The de facto public meeting takes place at 6pm at Village Hall.
The DOT Complete Streets has presented Sloatsburg with two Route 17 roadway improvements options, each option reflecting basic corridor improvement goals consisting of safe passage for all ages and abilities, general sidewalk and roadway improvement, a roadway design that encourages traffic calming, and roadway beautification that fosters a vibrant community life and helps the local economy.
Several points of interest the Village Board has identified include information on summer peak season traffic through the corridor and Village and how sidewalk and curb construction in north Sloatsburg would impact residents and Route 17.
Option 1 would keep Route 17 four lanes and include improvements, but could also mean some road widening in the north village, with subsequent use of setback for sidewalks and curbs.
Option 2 involves a Road Diet and provides a material means of slowing traffic down through the village by re-configuring the road from four lanes to three, with a middle turn lane.
Studies on Road Diets have shown that drivers tend to follow the speed limit more closely when the option for changing lanes is taken away. Additionally, DOT studies indicate that commuter drive times would increase approximately 78 seconds. Option 2 would visibly slow traffic by reining in aggressive drivers and providing pedestrian-friendly roadways.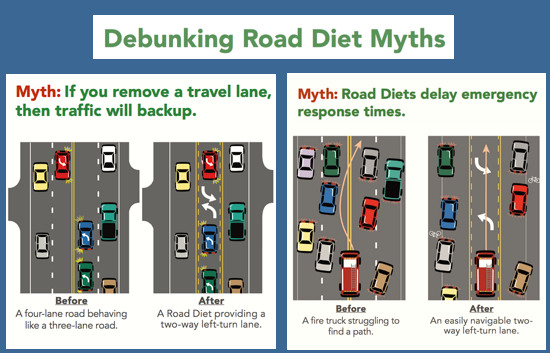 Sloatsburg's 2007 Comprehensive Plan advocated (with repeated urgency) that Route 17 through the Village is "a major influence on land use patterns within the community" and "shapes the visual impression of Sloatsburg." The Comp Plan stated that in its current configuration Route 17 has not only compromised the "basic safety, local access, and safe environment," but contributed to a decline in community quality of life.
After two Complete Street Public Workshops that invited public participation, the Village Board's recommendation will determine which option Sloatsburg chooses under the Complete Streets project.