Sloatsburg — Sloatsburg Fire Department trucks went racing up Council Crest to Hillside Road Thursday afternoon, responding to a sudden car fire at 6 Hillside Road. The owner had started his car, momentarily stepped back into his house, then returned to find his 1994 Cadillac smoking and in flames. As fire trucks arrived, loud booms from popping car tires could be heard in the Pine Grove Lakes neighborhood. Thick, choking smoke drifted downwind from the charred vehicle as masked firemen hosed off the car.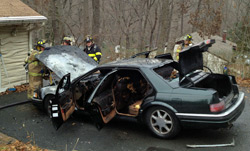 Both current Fire Chief Aneillo Vacchiano and former Chief John Johnston responded to the emergency. While Johnston directed crews, Chief Vacchiano conferred with police and the homeowner. "Normally, we have about four guys," said Chief Vacchiano. "But some of these guys just came off their probationary period and we wanted to get them out here. They did a real good job."
The fire department's response to the call was swift and efficient. There were no injuries. Intense heat from the car, which was parked in the homeowner's driveway near the house, melted a front section of vinyl siding.
The cause of the fire is unknown. It could have been from the sudden igniting of an old squirrel's nest lodged in the engine housing. Or, as one bystander said, it could be that the car was just a 1994 GM Cadillac. Nevertheless, noxious fumes from burning rubber and upholstery and fabric wafted through the area, and would into the evening, as the owner swept up debris around the gutted black car.
Note to Santa: We need bunker gear — work overalls and field jackets — for our Sloatsburg firemen in the new year.