The Tuxedo-Harriman Shuttle could use a few fun volunteers. If you have a free Saturday or Sunday available, think about taking a morning ride through Harriman State Park, taking bus tickets and giving drop-off directions to the bus driver.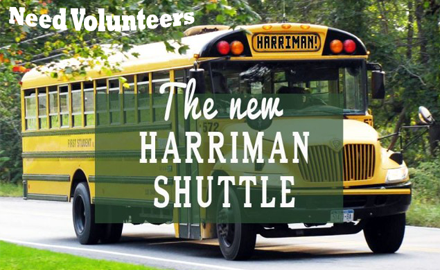 If it sounds kind of easy, that's because it will be — all you have to do is show up at the Tuxedo Train Station weekends (Sat/Sun) at 10 a.m.
The folks at My Harriman State Park and A Better Tuxedo have made things real easy for people who want to get involved. The Tuxedo-Harriman Shuttle program is scheduled to operate through October and the program will need volunteers to staff the shuttle throughout that time.
The Tuxedo-Harriman Shuttle is part of a public/private initiative to establish a more pedestrian and park friendly Tuxedo that leverages the surrounding parkland to help create a vibrant downtown area. The effort is a collaboration, led by Suzy Allman of MyHarriman and partners with A Better Tuxedo and the Tuxedo Chamber of Commerce.
The Harriman Yellow Bus will loop around Harriman State Park past Reeves Meadow to Sloatsburg, stopping at Characters Restaurant and Bar, before making a return loop back past Reeves Meadow and around Harriman back to the Tuxedo Train Station
All bus passengers will be responsible for their own park exit strategy. Hikers can either hike back to the Tuxedo or Sloatsburg Train Stations, hike to a bus stop, or spend the night in the park and catch the next morning's Yellow Bus as it rolls through the park.
Each bus ride on the Harriman Yellow Bus costs $5 per person.
A little volunteerism is a small price to pay to make some local change.
Take some tickets. Then maybe ride around in the air-conditioned bus, direct the bus driver to the proper stops, smile, chat, answer questions, and get to know Harriman State Park a little better.