Tuxedo is having a coming out party Saturday evening — sort of. The Tuxedo Chamber of Commerce and MyHarriman.com have joined together to re-introduce residents and fellow adventurers to the possibilities that the surrounding parks of Harriman and Sterling Forest State Park hold for the town.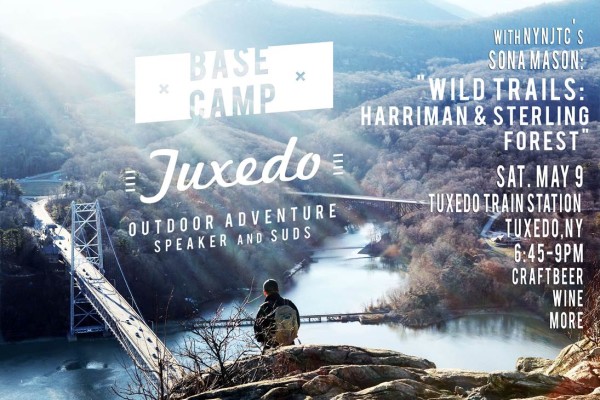 The merging of trail culture with the local community and economy will be part of the evening's vibe. The first ever Base Camp Tuxedo is titled "Speakers and Suds" and will take place at the Tuxedo Train Station. The evening will also showcase local craft brews and friendly faces while providing useful information from expert speakers on all things related to the surrounding parks. Sona Mason, West Hudson Program Co-ordinator for the NY/NJ Trail Conference. will be featured speaker and discuss some of those trails that wind around near Tuxedo.
Suzy Allman is the energy behind MyHarriman, a site devoted to the vast resources and adventure opportunities provided by New York State's second largest park. A renowned New York Times sports photographer currently enjoying a brief well-earned hiatus, as well as die-hard rescue dog lover, Allman saw something in the surrounding parks and local community that thought said to her — "lovely Trail Town."
"Tuxedo to me has always been this adorable little town in the heart of the parks. One look at the map, and it's obvious what a great "Trail Town" Tuxedo could be: all that green of Harriman to the east, Sterling Forest to the west, surrounding the pointy little houses and civic buildings that seem like they fell out of a Grimm's fairy tale. Deep in the valley under Dater Mountain, a train track from New York City stops at a train station that could be the envy of any town, anywhere. A river rushes by." — Suzy Allman from MyHarriman
Allman's idea was to harness her enthusiasm for Harriman with the Tuxedo Chamber advocation for Tuxedo and begin to give shape to creating those services and attractions that can help Tuxedo sparkle as it leverages more of  the trail economy.
The art part of the evening will feature a whole host of Instagrams by people from their adventures in Harriman State Park — the Instys will be up on the wall and spread out on a clothesline, showing the fantastic range and beauty of Harriman and Sterling Forest State Parks.
Base Camp Tuxedo is the first of various events that will promote local trail culture and the many ways its can shape, define and aid the local Tuxedo economy and those of  surrounding communities.
The event is free and open to everyone. Hang with other hikers after spending a day out in Harriman State Park or Sterling Forest.