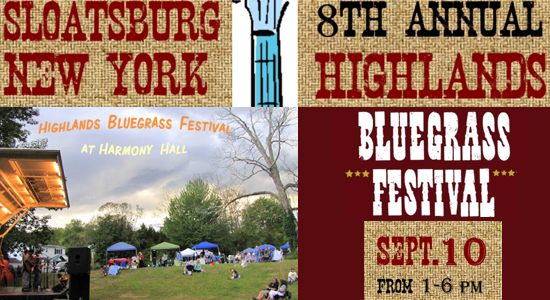 Bring a little blue skies and sunshine with you when you travel to the 8th Annual Highlands Bluegrass Festival at Harmony Hall in Sloatsburg, NY. Also bring a comfortable lawn chair for an afternoon of live bluegrass and Americana music that will feature banjo extraordinaire Tony Trischka.
The free event goes from 1 p.m. through 6 p.m. on Sunday, September 10.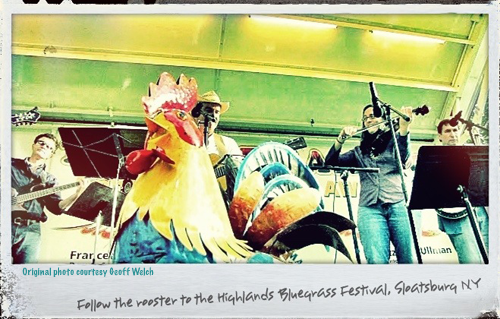 The festival is worth a drive to Sloatsburg, just northwest on Route 17 next to Harriman State Park in Rockland County. Plan a day outing that might include a drive through Harriman on your way to the Bluegrass Festival. There are also a number of dining opportunities in Sloatsburg, including a great selection of craft beer on tap at the ever popular Seven Lakes Station tap room, across the street from the Bluegrass Festival staging lawn. There's also food and fun at Characters Bar & Restaurant. The local roadside attraction of dining at Rhodes North Tavern along Route 17  provides plenty of indoors and outdoor options. If you're in the mood for a bit of Korean style sushi, you can't do better than Sushiville, again, located adjacent to the Bluegrass Festival.
The event is free and features an afternoon of bluegrass and Americana music amid a selection of craft and other vendors. Banjo extraordinaire Tony Trischka headlines this year's festival.
The Bluegrass Festival is one of many colorful seasonal events beginning to dot Hudson Valley communities as fall approaches.
This season the Friends of Harmony Hall landed Rockland County Tourism as a sponsor for the Sloatsburg music festival, a signature area event in that draws an audience from across the Hudson Valley, including from near and far in these parts of New York and New Jersey. The Friends group at Harmony Hall has also worked to grow the event as a popular seasonal regional attraction that also promotes the Sloatsburg area, its town and county parks and place in New York history history. The group has signed on strong sponsorship, engaged select vendors, and continued to build community interest and support for the annual event.
The 8th Annual Highlands Bluegrass Festival is sponsored by Rockland County Tourism, the Town of Ramapo, I Love NY, and the ever nurturing hands of the Friends of Harmony Hall.