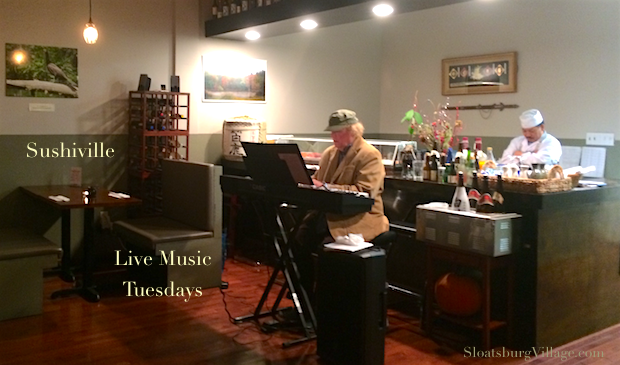 Whether he's out back on break with a pitching wedge in hand on the Harmony Hall great lawn or inside greeting repeat customers, Sushiville owner CJ Oh is sold on Sloatsburg. He believes that the village is a special place, nestled in the Ramapo Mountains, with a beautiful river running through the village and Harriman State Park and Sterling Forest State Park nearby.
A former professor of economics who studied at CUNY and taught in Korea, CJ's expertise was the economics of urban planning. Sloatsburg, he said, has a unique environmental story to tell, and can distinguish itself by being a defender of the Ramapo River and surrounding parks.
A Sushiville winter special includes a free sake serving for the table during this winter season.
Sushiville, which serves up sushi with a Korean twist, continues to build its business in the Route 17 corridor with Live Music Tuesdays, a collaboration with local composer and environmental advocate Geoff Welch that brings curated live music to Sushiville Tuesday evening. Welch was one of Sushiville's first customers and struck up a friendship with Oh, who said he was impressed that many of the Welch's unique nature shots on display at the restaurant were taken from daily moments captured in and around the grounds of Harmony Hall.
Welch kicks off the series with environmentally inspired music on keyboards Tuesday evening, from 6 – 8 p.m. The series will meander in focus, taking into account folk music and Celtic music themes, the American songbook, and other curated music that appreciates and is inspired by the the unique, natural landscape surrounding Sloatsburg.
Sushiville currently has an installation of nature photographs of the Highlands and Ramapo Pass that showcases CJ's interest in environmental conversation and sustainability.
#Sushiville in #Sloatsburg supports the environment with new Live Music Tuesdays series + offers winter special of free serving of sake. pic.twitter.com/m4BhAI2N77

— Sloatsburg Village (@Sloatsburgny) January 16, 2017
Sushiville serves sushi dishes with a taste of Korea and is located at 67 Orange Turnpike, Sloatsburg, NY – (845) 712-5006.