Sloatsburg residents gathered in late April to participate in the second Complete Streets Public Workshop, which ended with tables voting on two different options.
The New York Department of Transportation Region 8 team led the Public Workshop II discussion that focused on presenting two Route 17 roadway improvements options, each option reflecting basic corridor improvement goals consisting of safe passage for all ages and abilities, general sidewalk and roadway improvement, a roadway design that encourages traffic calming, and roadway beautification that fosters a vibrant community life and helps the local economy.
Sandra Jobson, regional architecture and environmental landscape manager, once again hosted the evening and walked Sloatsburg residents through two Route 17 roadway options that reflected the information gathered by the DOT in the first workshop.
The two options included Option 1, which would maintain four lanes with improvements, and Option 2, which involves a Road Diet and reducing four lanes to two, with a middle turning lane.
The Option 2 Road Diet modifications would be done via roadway painting of lane lines, a flexible and cost-effective (and reversible) way of making roadway changes.
When tables voted on the options at the evening's end, some 10 tables to 5 voted for Option 2, which included the Road Diet.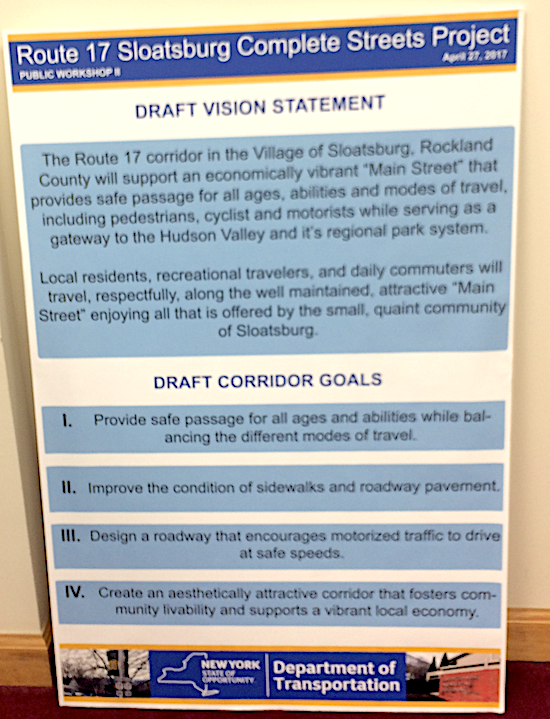 The Complete Street project is part of a NY State law passed in 2011 that promotes roadways designed for the safe, convenient access and mobility of all roadway users of all ages and abilities. Complete Street roadway design features might include sidewalks, lane striping, bicycle lanes, paved shoulders suitable for use by bicyclists, signage, crosswalks, pedestrian control signals, bus pull-outs, curb cuts, raised crosswalks, and traffic calming measures.
The DOT met with Village of Sloatsburg officials in mid-May, as well as members of the Sloatsburg Fire Department and other first responders, to discuss roadway improvement options.
The Village of Sloatsburg Board of Trustees is scheduled to make an official recommendation on a preferred option on Tuesday, May 23, at 7 p.m. — the regular board meeting takes place at 7 p.m. due to the Annual Recognition Night for Graduating Seniors Class of 2017 which will take place at 7:30 p.m.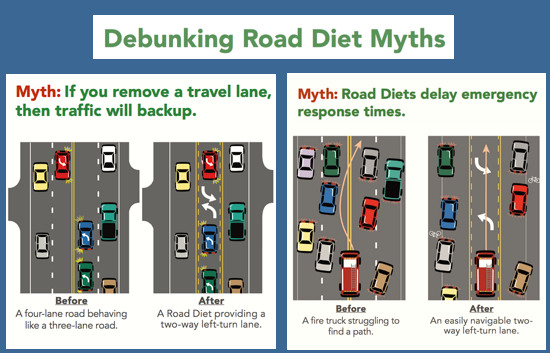 The approximately $4 million Route 17 road improvement project is being funded primarily through NYSDOT, state and federal funds, and will include the paving of Route 17 through Sloatsburg.
The DOT will fund the initial phase of Sloatsburg's project, which will make major improvements in ease of use for bicyclists, pedestrians, public transportation riders, and local motorists using Route 17.
The final Complete Street Public Workshop is tentatively scheduled for sometime in June, where a final Option will be presented and the project timeline will be discussed.