The Village of Sloatsburg has been busy a number of major improvement and maintenance projects that taken together will have lasting impacts on local quality of life.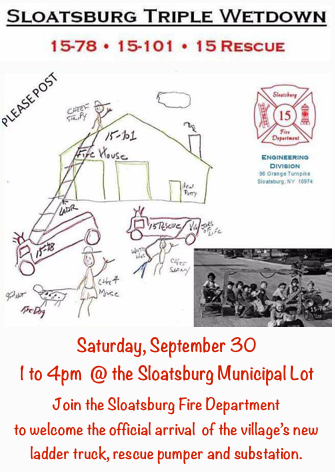 2017 has been a year of both planning and execution. Projects underway include major sewer and road improvement plans, delivery of two new fire trucks and the construction of a substation to house them in, community pool upgrades and the recently completed resurfacing of tennis courts at the Community Fields.
The Village Board meets the last Tuesday of September (tonight, September 26) to discuss updates on projects and events and attend to the business of Sloatsburg. The New York State Department of Transportation Region 8 team is set to update the board on the Complete Streets Route 17 road improvement plan it's working on jointly with the Village.
The NYSDOT briefing takes place at 7 p.m., before the Village Board regular meeting which follows at it usual 7:30 p.m. time.
Sloatsburg, NY's 2 new @EONE_FireTrucks 2016 Typhoon 78′ stick & 2017 Typhoon Rescue Pumper. Photos by Brian Duddy pic.twitter.com/KrhkgdGoXF

— RocklandFires (@RocklandFires) September 25, 2017
Along with the Sloatsburg Fire Department construction and truck update, Community Fields projects get reviewed and there will be a report on the Main Way Subdivision proposed off Sterling Mine Road in the Town of Ramapo.
The Complete Streets update is part of the continuing conversation related to Route 17, including its condition, safety and traffic flow, and the significant impact it has on the surrounding community.
The NYSDOT has moved its tentatively scheduled Public Meeting to present the Complete Street plan to residents to November to allow the team to finalize the roadway improvement effort.
As part of the official welcoming of its new trucks and substation, the Sloatsburg Fire Department will celebrate a Triple Wetdown this coming Saturday, September 30, from 1 to 4 p.m. at the Municipal Lot.