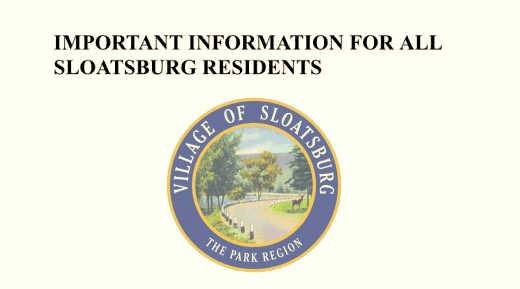 The tortuous trail of Sloatsburg's dirt pile debacle continues. Mayor Carl Wright has scheduled a Thursday, April 6, Public Meeting at Village Hall at 7 p.m. that have Rockland County Sewer District #1 officials attempt to answer residents questions.
Meanwhile, the RCSD has walked back its most recent assertion to Sloatsburg that tests by the NYS Department of Environmental Conservation (NYS DEC) showed no contamination at the Sloatsburg Community Fields and/or in areas of Hillburn, NY.
According to Mayor Wright, Sewer District Executive Diane Philips has said there might have been a miscommunication about her earlier comments that the Sloatsburg Community Fields contained no contamination from the debris in question, which apparently is old oil and chip roadway that was dug up in the Flats.
Executive Director Philips informed the Mayor Monday, April 3, that the most recent DEC Community Fields tests wouldn't be available until May, and that any earlier claims of clearance of contamination in Sloatsburg must have been misinterpreted or misheard.
Mayor Wright believes the RCSD was very clear in its Thursday, March 31, communication to the village. Mayor Wright has encouraged any concerned residents to put their questions directly to the Sewer District at Thursday's meeting.
The Mayor stressed that former Sloatsburg Sewer Commission representative Trustee Dan O'Leary and former Trustee and Deputy Mayor Mark Reimer (who has since moved from Sloatsburg) both reported that they don't recall any discussion of a contamination in Sloatsburg or a contract to clean up any contamination discussed in their presence while representing on the commission board.
Ramapo: Contaminated soil remains despite $400K payout
More questions then answers!https://t.co/mBmOeBZGyL via @lohud

— The Monte Scoop (@SusanCMonte) March 31, 2017
The responsibility of contaminated soil in Sloatsburg rests squarely with the Sewer District, then the DEC and Town of Ramapo. A couple of important questions might be:
1) Who requested the original tests?
2) Who was responsible for the Sloatsburg clean up?
3) Were the contaminants sufficient to cause harm to residents?
4) Why wasn't the Village of Sloatsburg notified in writing about the findings?