Harrison Bush has worn many hats during his years living in the Village of Sloatsburg … from a student at Suffern High School in the 1940s to WWII veteran awarded a Purple Heart and to elder of the Sloatsburg Historical Society to helping establish Harmony Hall as a landmark to serving as keeper of local lore and history as Village Historian.
Descended from Jacob Sloat who built Harmony Hall, and nearly identical in looks to a period painting of his great-great-grandfather Jacob, Harrison Bush has had cross-generational appeal for Sloatsburgers. Many recall first meeting Mr. Bush during their Sloatsburg Elementary School or Suffern Middle and High School years where he has worked as as a substitute teacher.
And then there's the annual history week in May that celebrates Ramapo and Sloatsburg history, where Bush has often acted as host to Sloatsburg Elementary 4th graders on their history tour of the village. Mr. Bush is also a graduate of Trinity College and received his Masters in History from Columbia University in New York City.
Now the Sloatsburg Historical Society honors Mr. Bush Sunday afternoon, October 22, for his many contributions to the preservation of local history and for his community spirit. The event takes place from 2-4 p.m. at the Sloatsburg Senior Center and includes refreshments. The tribute to Mr. Bush is free and the public is invited.
Mr. Bush has a vast recollection of family connections and interactions, history of people and places. He recalls his mother living in the house along Route 17 that is now Rhodes North Tavern, along the bend in Nakoma Brook as it turns toward the Ramapo River. Perhaps Mayor Carl Wright is the only other Sloatsburger near Bush in breadth and depth of local lore and knowledge.
"Harrison remembers so many details about his family and their friends in Sloatsburg, said Harmony Hall Curator Geoff Welch. Bush is a descendent of Henry Ransom Sloat, whose father, Jacob Sloat, built Harmony Hall around 1848 — the house with a Great Lawn is also known as the Jacob Sloat House.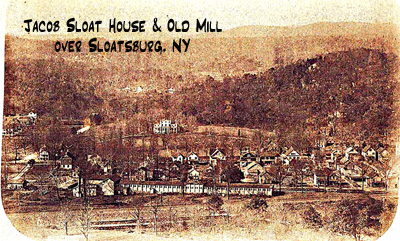 The Sloat Dam along the Ramapo River was built in 1792 by Jacob's father Isaac Sloat. Jacob Sloat was an industrialist and entrepreneur who built the Sloat cotton mill on the Ramapo River in 1815 (later greatly expanded). The Sloat Dam and raceway powered the cotton mill.
At its height around 1852 the Sloat Mill produced some 8,000 pounds of cotton twine per week that was shipped directly to the New York City market on the Erie Railroad main line where Sloat acted as Station Master for the Sloatsburg Train Station.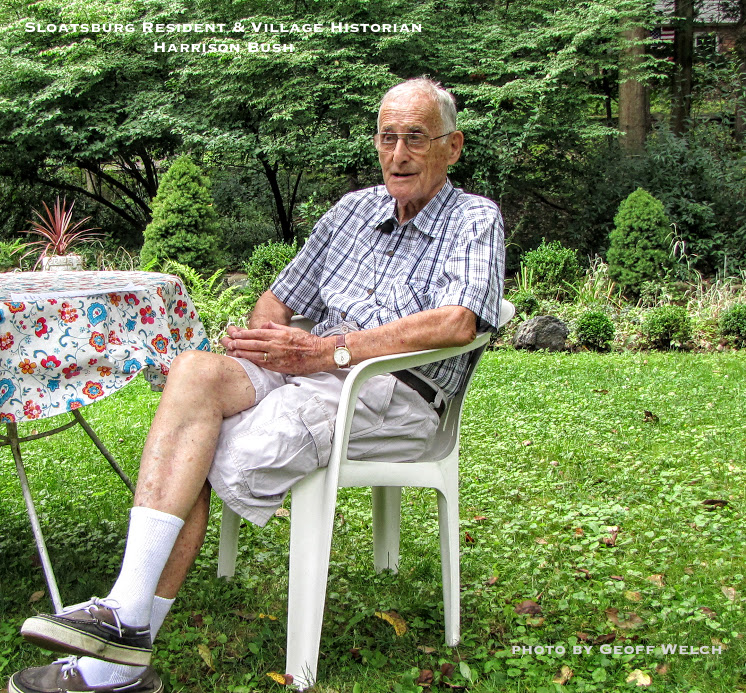 In the past few years, Harrison Bush was honored as one of Sloatsburg's senior's who has passed the 90-year mark and participated as a Sloatsburg WWII veteran in the Hudson Valley Honor Flight Program.
Bush was instrumental in his advocacy as a founding member and President of The Friends of Harmony Hall in establishing partnerships and preparing materials that helped win the property listings on the National and New York State Historic Registers. Mr. Bush was also a member of the resident committee that contributed to the Bicentennial History of Sloatsburg 1775-1976 booklet, which now serves as primary reference material for the history of Sloatsburg.
The Sloatsburg Historical Society is a non-profit organization that actively meets and promotes local history through advocacy, partnerships, its ongoing collection and cataloging of historical documents, and other programs.