Sloatsburgers can breathe a sigh of relief as an incredibly worrying rumor has been struck down by the New York State Department of Environmental Conservation.
NBC News 4 reporter Sarah Wallace filed a sensational video report on Tuesday evening that charged Town of Ramapo Supervisor Christopher St. Lawrence with culpable malfeasance by leaving knowingly contaminated sewer construction dirt and materials at Sloatsburg's Community Fields and at other dump sites in Hillburn, NY.
Mayor Carl Wright reported that he was informed Thursday afternoon, March 30, by Rockland County Sewer District #1 Executive Director Diane Phillips that the NYS DEC reported that NO soil samples at the Sloatsburg Community Fields tested hazardous or are contaminated.
Full story from tonight's #Rockland Sewer District meeting; updates on contaminated soil in county: https://t.co/xlIaiChPzU

— MikeD_Rockland (@MikeDonofrio_) March 31, 2017
Officials: soil piles at #Sloatsburg park, Hillburn cemetery now not contaminated as of 2016 testing.

— MikeD_Rockland (@MikeDonofrio_) March 30, 2017
According to a news report by LoHud's Mike D'onofrio, RCSD's Assistant Director Mike "Saber said the soil in the Sloatsburg park — adjacent to a soccer field and baseball diamond — was deposited there around 2009 and was at the time classified as "non-hazardous contaminated soil."
The sewer district had the soil in Sloatsburg in July, Saber said, and found that "the contaminants of concern had fallen below the limits of contaminated soil."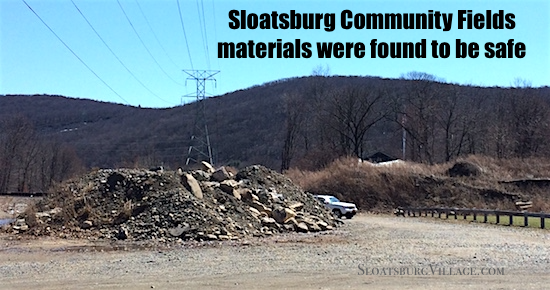 The sudden "discovery" of contaminated soil in Sloatsburg came just as St. Lawrence will stand trial for federal corruption charges related to inflating town assets to get better bond ratings. Reporter Sarah Wallace had received information about possible contaminated soil in Sloatsburg and Hillburn, NY, as well as a whole package of information on the sewer project that included the 2012 contract for removal of materials.
Ramapo and St. Lawrence are still under investigation regarding the $800,000 contract signed by the town with the RCSD in 2012 that outlined removal of materials from Sloatsburg in the timeframe of six months.
So, Sloatsburg parents and kids can breathe safely. The materials at the "ball fields" that many Sloatsburgers used over the years are harmless — and have been put to good use as fill and for rock walls.
Village Hall took the matter very seriously and got to the bottom of the case in record time.
Note: This article has been updated to account for information gathered by the Rockland County Sewer District #1.