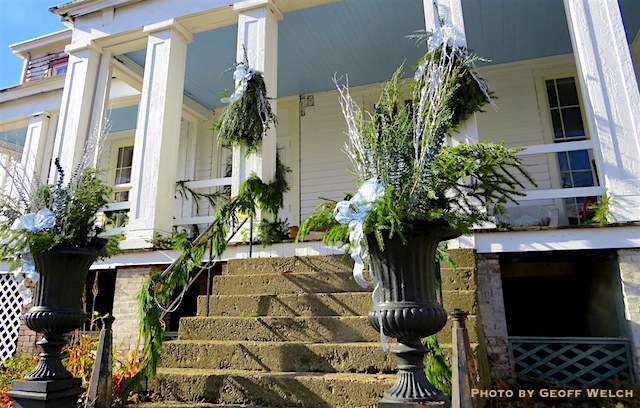 The weekend weather promises sunshine as Sloatsburgers celebrate the holiday season with the annual tree lighting and caroling, a longtime village tradition.
The Village of Sloatsburg's annual celebration begins Sunday, December 3, with Breakfast with Santa at Sloatsburg Elementary School and continues with Harmony Hall's Victorian Holiday, from 1-5 p.m., with the annual Caroling and Tree and Menorah lighting ceremony beginning after 4 p.m.
Caroling through Sloatsburg goes back nearly 50 years. The event this year again features the Suffern Select Choir and will begin at St. Joan of Arc Church, travel to Harmony Hall, the Sloatsburg Library, and the Sloatsburg United Methodist Church just across from the Municipal Building.
Sunday's Victorian Holiday is a Free Family Celebration and is co-sponsored by the Town of Ramapo.
Harmony Hall was built by Jacob Sloat in 1848, with members of the Sloat family living in the avant-guard Greek Revival house on the hill until 1908, when it passed out of the family. The Friends of Harmony Hall efforts seeks to restore the house to as it was when the Sloat family lived in it from 1848-1908, and establish the property as an historical, environmental and education center for the Ramapo Highlands region.

The Journey News video about Harmony Hall's Victorian Holiday, featuring founding board member Peter Bush.
Schedule of Upcoming Sloatsburg Holiday Events:

– Breakfast with Santa, Sunday, December 7, Sloatsburg Elementary School, from 9 a.m. to 10 a.m. and 11 a.m. to 12 p.m. For more information, or to make a reservation for this event, call the Village Hall at 753-2727

— Victorian Holiday at Harmony Hall, Sunday, December 3, from 1-5 p.m.

– Sloatsburg Annual Tree and Menorah Lighting & Caroling, Sunday, December 7, 4 p.m. to 7 p.m. — Meets at St. Joan of Arc Church

— Tuxedo Chamber of Commerce Holiday Mixer, Thursday, December 7, 6 p.m. at the Tuxedo Park School.

– Annual Christmas Train, Saturday, December 9, throughout the Village during the morning and into the early afternoon