The sounds of holiday singing were heard throughout the day Sunday at the Waterwheel Restaurant and Cafe in Tallman as carolers and students sang for their supper, entertaining friends and family.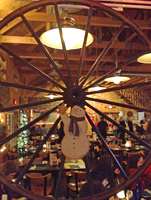 Waterwheel owners Joe and Val Rinaldi opened their doors and restaurant floor to Nanuet voice teacher Bette Glenn and her students for a day of holiday cheer. Glenn has a thriving voice studio and preps many Suffern High singing and theater students, as well as directs the Antrim Theatre Camp in Wesley Hills during summers.
"I thought it was really delightful to see all the families and all the support," said Glenn. "To see the kids all dressed up and excited to sing and perform. It was just a lovely ambience in the restaurant with all the decorations. And the warm welcome we received from Joe and Val — I was really very happy."
Glenn used the occasion as a fundraiser for United Hospice of Rockland County, where donations were purely voluntary. "I didn't want to press people too much," said Glenn, "because you have to take your whole family out to dinner to begin with." Glenn said that the Rinaldis kicked in $350, and later, Joe Rinaldi contributed the final $15 out of his pocket to put the total evening take for Hospice at $1000. "It was really very sweet of Joe to do that," said Glenn of the Rinaldis' generosity.
At least six Suffern High school students sang, performing an assortment of Christmas classics. Each of the participating Suffern students will also be a member of the high school spring musical, Sweeney Todd: The Demon Barber of Fleet Street.
"The Antrim Theater camp in the summer is often 3/4ths Suffern kids," said Glenn. "Almost all of the Sweeney Todd principals are Antrim alumni."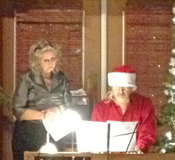 Daniela Feingold, a Suffern senior who will play ultimate hero Tobias Ragg in the spring production, breathed new life into a tough-to-sing "Have Yourself a Merry Little Christmas" while Jessica Sofen brought a bit of torch and romance to "I'll Be Home for Christmas". Dunahay Pereyra scolded with a jazzed up "Santa Baby". Elena Ivers sang "Do You Hear What I Hear?" More than 30 voice students took part in the program, which had two sessions, the first one starting at 4:30 p.m. and the second taking place in the evening. In the early session, Ari Lachenauer, an 8th grader from Suffern Middle School, sang "Sleighride". Suffern High freshmen Kirsten Meehan sang "Let It Snow" and Maggie Brennan sang the Glee-popular "All I Want For Christmas Is You".
Chris Bankey, a regular Glenn partner, acted as accompanist for both performance sessions.
Carolers kicked off the evening session. Glenn's daughter and her husband, Ara Glenn Johanson and Matt Surgi, who recently relocated from San Fransico to Boston where Surgi's a Professor of English at Wellesley College, happened to be home for the holidays and performed an interesting mix of early show tunes.
So, be on the look out to catch Glenn's students perform seasonally at the Waterwheel.