Amid near zero temperatures and fresh snow, members of the Sloatsburg Chamber of Commerce gathered this past week for a belated Holiday Party.
Held at Harmony Hall in Sloatsburg on Friday, January 5, the evening saw members of the corridor's and Sloatsburg's business community get together to meet and greet, with the recent improvements along Route 17 a topic of conversation.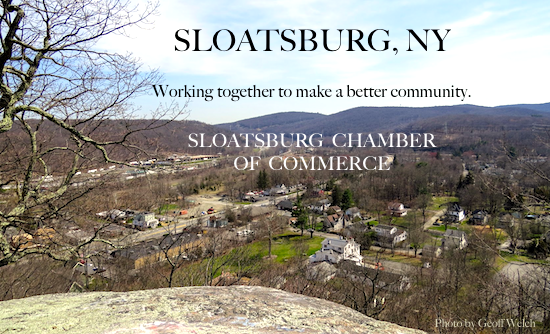 Susie McDonagh, owner of Rococo's Salon, acted as the evening's event planner, ensuring that the holiday party was not only well attended but also well stocked with tables full of foods and deserts. Friends of Harmony Hall President Barbara Berntsen, a driving force along with McDonagh in re-establishing the Sloatsburg Chamber, acted as co-host of the evening.
Although just recently revved up from a fairly inactive status, the Sloatsburg Chamber already has a growing membership and full agenda of local issues to pursue, including a recent Rockland County Tourism grant application, the build-out of its membership and website, continued sponsorship of the Sloatsburg Elementary School 5th grade essay contest "What Sloatsburg Means to Me", and plans to develop fall village wide business community participation in the Highlands Bluegrass Festival.
The Sloatsburg Chamber also celebrated a well-attended early November block party hosted by Valley Rock Inn to kick-off the holidays and it's local membership drive.  Timing is a key ingredient to any venture, and chamber enthusiast Barbara Berntsen believes conditions are right for Sloatsburg's chamber  to get quickly established and contribute to the community.
Set in the woody Ramapo Mountains at the foot of Torne Mountain and southern Harriman State Park, Sloatsburg is a well located semi-rural village that also appears to be well attuned to its many assets.
So, if you're a small business owner, individual, group, or part of a community organization and want to contribute to the voice of the Sloatsburg business community, become a member. The Sloatsburg Chamber is just getting started. Contact Susie McDonagh at smmcdonagh@gmail.com.