As you probably have heard by now, 2012 heralds the final year of the Mayan Long Calendar and some say the end of time itself. We can't vouch for that. What we do know with certainty is that this coming Saturday is New Year's Eve and the very last day of 2011. And it will be the end of the year as we know it. That is, for all you followers of the Gregorian calendar.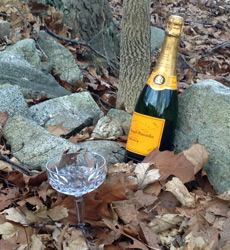 So, whether celebrating quietly with friends or family or at some elegant party looking out onto a majestic fireworks display, raise a glass to the old and welcome the new.
This year, the news spotlight shone on Sloatsburg for a number of reasons, mostly due to Mother Nature's play of extreme weather. August saw high winds and heavy rains from the remnant of Hurricane Irene, which produced flooding throughout the area. Already swollen waterways from a wet summer turned the placid trickle of Stony Brook into a torrent that washed away the old 1910 Waldron Terrace bridge. The Ramapo River itself ran wild and the aftermath had most of central Sloatsburg and houses along Seven Lakes Drive pumping water for days from flooded basements. Some people are still recovering.
The strange Halloween snow storm bent trees full of green leaves to the snapping point, downing powerlines across Rockland County. Sections of Sloatsburg were without power for days. Widow branches hung up in treetops are still dropping. Beware.
Irene also shut down the Point Jervis Line of Metro Rail North that services Sloatsburg. The Sloatsburg train station reopened in late November. During Irene, Ramapo waters caused a diesel spill into the river that contaminated homes and properties with fuel oil.
In July, there was a rash of small robberies in Sloatsburg that turned out to be committed by a pre-teen Sloatsburg resident. And finally, former Village Attorney Joel Grossbarth was just charged with grand larceny and other offenses connected with alleged misappropriation of client funds related to an investigation into Grossbarth's private practice in July of last year. Grossbarth's law license has been suspended due to another misconduct allegation.
But now the holiday season lull is here and the village is at rest, like an after-dinner guest resting and relaxed in a chair by the fireplace. All is quiet. Most village spots, including Character's Restaurant and Bar, Sterlington Station, and Sunnyside's Bar & Grill, will have regular Saturday hours and fare for New Year's Eve. Even Tuxedo Junction Inn in Tuxedo has no special New Year's rockin' eve planned.
Late night owls will have to tuck into Rhodes North Tavern if they're looking for a party in these parts. The ever-popular spot, perfectly located on Rt. 17 along a bit of the Ramapo River, will host a New Year's Bash with the band Trippin Carla and free champagne toast at midnight. The band plays from 10 p.m. to 2 a.m. and there will be no cover. Food is served until 3 a.m. and the bar will be open until 4 a.m.
So, whoever you're with, enjoy the last Saturday night of the last day of the year, as 2012 promises to be very interesting.