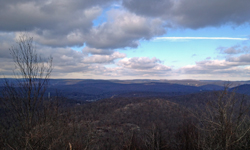 A close look around Sloatsburg can be revealing, with many natural gems hidden in plain sight. Take a moment and scenes open up right before you — the ever-changing face of Torne Mountain shrouded in clouds one minute and glancing sunlight the next. The Ramapo River can run slow and murky or fast and frothy as it rushes through the village at Seven Lakes Drive.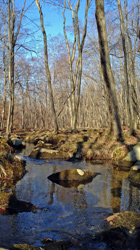 There's good enough reason that Sloatsburg calls itself the gateway to the park lands. A hike out to the foot of Torne Mountain leads to an outstanding secret Sloatsburg natural setting.
The whole Torne Valley wetlands are filled with mossy, lichen green rocks and clear streaming water this time of year. These are the very waterways that became swollen to overflow during Hurricane Irene this past August.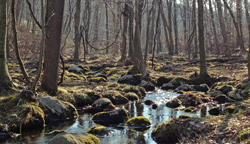 Now, with these last days of clear, moderate weather, the area is alive in late greens. So, take a hike into the woods. Or let the few following pictures do it for you. Before winter frosts set in and — later — snow fall covers everything until spring.