Mayors of villages can do a whole lot, from making local laws to managing employees and common properties. Alas, they can't build private roads or give away money.
The New York State Conference of Mayors and Municipal Officials is holding an essay contest and want to know what you would do as Mayor. The contest invites 8th graders in the Villages of Sloatsburg, Hillburn and Suffern to write a short essay on what they would do as Mayor. Easy as getting elected.
Winning essays will be selected and awarded real money — first place will receive $150, second place $75 and third place $50.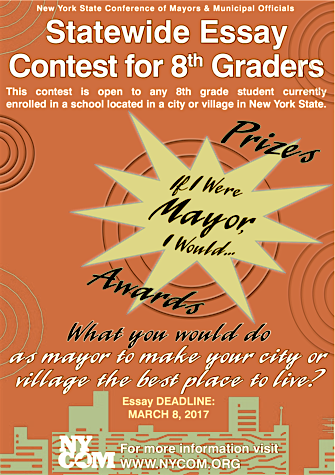 The contest deadline for submission is March 8. Entry form is here.
Essays should be between 350-500 words, which is 1 to 2 pages. Don't exceed 500 words. The following are a few guidelines and rules:
Theme topic "If I Were Mayor, I Would…" and explain how and why you would undertake action.
Only one essay may be submitted per student.
One entry form/email may be submitted for multiple entries (be sure student's name,school and city or village is on each essay).
A few tips on what Mayors can and can't do, include:
Mayors can:
Lead and collaborate on the building of municipal projects.
Promote and implement shared services with other governments.
Apply for grants (money from the State or federal government) to make parks nicer, roads wider and sidewalks safer.
Work with the legislative branch (city council or village board of trustees) to decide how the city or village should spend its money.
Make local laws to stop people from littering or speeding.
Manage city and village employees (police officers, firefighters, building inspectors).
Adopt resolutions to implement day-to-day operations of the city or village (mayor-for- a-day, park dedication, naming a street).
Mayors cannot:
Build private structures.
Encroach on parental rights.
Give away or loan public money or resources to friends and family.
Interfere with school rules.
Infringe on Constitutionally protected rights.
Essays must be RECEIVED BY NYCOM NO LATER than Wednesday, MARCH 8, 2017. Mail or Email entries to: NYCOM, Attn: Essay Contest, 119, Washington Avenue, Albany, NY 12210 | EMAIL: ifiweremayor@nycom.org.