Sloatsburg — The time of year is here when firewood is finally stacked. Evening shadows come early. Decorated tree lights blink into the night. Winter winds pick up. Thursday, December 22nd, is also the shortest day of the year and the offical first day of winter. The occasion goes by many names: Winter Solstice, Saturnalia, Yule. Christmas. New Year. Celebrated since neolithic times, it's that special moment when the Earth's axis tilts away from the sun, creating the shortest day and longest night of the year, the significance being the gradual lengthening again of days, or rebirth.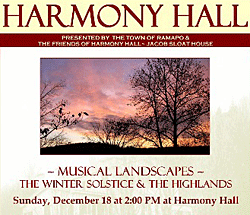 It's a time for reflection and thanks, for giving and celebration. There'll be camping out at Stonehenge for sunrise ceremonies. Paul Winter will provide a Winter Solstice musical and theatrical spectacle at New York's Cathedral of St. John the Divine. And right here in Sloatsburg, Harmony Hall will host its very own Ramapo Mountains winter solstice celebration.
On Sunday, December 18, Harmony Hall Curator Geoff Welch will present Musical Landscapes, an afternoon of reflection and connection before the cold days descend. Welch's multi-media work of original photography and music, composed specifically for the occasion, will explore the quieter and more majestic side of winter in the Ramapo Highlands. Sloatsburg's in the very heart of that area, the geography in and around the Ramapo River watershed.
Harmony Hall is the original name for the Jacob Sloat House, designed and built by the man himself back in 1848. The mansion is listed on the National Registry of Historic Places and is wealth of cultural and community activity. The Friends of Harmony Hall is the member organization that works behind the scenes to promote Harmony Hall, the history of Sloatsburg, and its place as part of New York's Ramapo River Pass and Highlands environments.
The mansion interior is still decked out in holiday dress and during Sunday's event the Holiday Shoppe will be open to provide for any last minute shopping. Handmade items to be sold include knitwear, herbal products, candles, toys, and sundry. All proceeds support Harmony Hall restoration activities. Refreshments will be served. The solstice event marks the last public program at Harmony Hall before the mansion shuts down for the winter.
So, if you can't make Stonehenge, you can celebrate quietly with a few friends right here in the village.
Musical Landscapes takes place at Harmony Hall on December 18 from 2 p.m. to 4 p.m. For more information, visit here.