Harmony Hall in Sloatsburg has left an impression on someone in the community. The Journal News recently received a message inquiring whether LoHud would be interested in running a story on the condition of the old Jacob Sloat House. Photos were attached and the tipper called the rambling mansion "a dump." The message was clear — the Town of Ramapo had allowed one of its Open Space historical properties to fall into disrepair.
But as many Sloatsburgers know, the old Jacob Sloat House has gone through any number of ups and downs in recent years.
Inside Harmony Hall in Sloatsburg http://t.co/yboDEqIvLi pic.twitter.com/oxPJjDIdqZ

— lohud.com (@lohud) July 29, 2015
LoHud bit on the house of disrepair tip and sent photographer Ricky Flores and writer Akiko Matsuda to investigate on Wednesday, July 29. What the two discovered was a piece of historical Sloatsburg, a thriving Friends of Harmony Hall organization and a property in the midst of a meandering but thorough renovation.
Curator Geoff Welch hosted Flores and showing around the interior of Harmony Hall, pointing out a few interesting architectural points discovered in the restoration process — a carved J. Sloat 1848 marble wall mount, as well as a J. Sloat 1849 etched wooden wall support that was hidden in the door frame. Purchased by Ramapo in January of 2006 for some $725,000, the 1.85 acre property just completed an initial renovation project that involved the removal of old siding, a newly constructed roof with Yankee gutters, structural improvements that included support beams — all to the tune of $600,000 in grant money.
Harmony in #Sloatsburg pic.twitter.com/XP2b6FWpHH — Ricky (@Ricky_Flores) July 29, 2015

Eventually, Harmony Hall's front porch and doors and windows will be restored, along with a re-built veranda that will leave the front of the house close to its original look, dating back to the 1850s.
Originally built as the home for Jacob Sloat and family in 1848/49, the mansion was dubbed Harmony Hall and today is on the New York State and National Registers of Historic Places — thanks to the efforts of the Friends of Harmony Hall and Christopher St. Lawrence and the Town of Ramapo.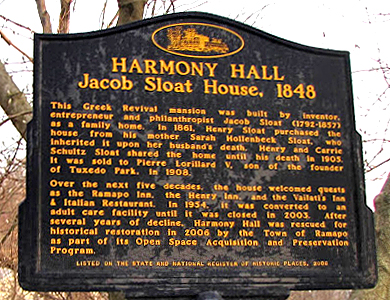 The Friends of Harmony Hall, a non-profit member organization that works behind the scenes to promote and renovate Harmony Hall, also raised money in the past to refinish the interior wooden floors and install historic radiators to heat the houseon the first floor.
Harmony Hall now serves as the fulcrum for a wealth of Sloatsburg cultural and community activities, including the popular annual September Highland Bluegrass Festival. After the restoration project, Harmony Hall will act to promote not only the history of Sloatsburg but serve as an entry point for New York's Ramapo River Pass and Highlands, including Sterling Forest State Park and Harriman State Park.
Harmony in #Sloatsburg pic.twitter.com/OwWEsmBpDQ

— Ricky (@Ricky_Flores) July 29, 2015