From Tuxedo to Suffern, high school music students have been hard at work preparing for this week's spring musical.
Suffern High School students made the rounds to schools on Monday, March 20, during its annual district tour, showcasing the theater and music programs to elementary students — and those very competitive middle school kids. Now the stage is set for this year's production of Fiddler on the Roof , beginning Thursday evening, March 24, and running through Saturday, March 26. Shows take place at the Suffern High School auditorium at 7 p.m. Saturday will also include a 1 p.m. matinee performance.
SHS Musical District Tour '17
Stop #3: @MontebelloEagle #suffiddler #rcsdmountiepride #suffernmusic pic.twitter.com/G3BuXnxRxd

— Randall Schwartz (@SuffernMusical) March 20, 2017
You don't have to be a "Rich Man" to see a high-quality musical! Come see "Fiddler on the Roof" this week at Suffern HS! @SuffernMusical

— Alison Meyer (@RPConnorMusic) March 22, 2017
The talented SHS cast & crew present preview of "Fiddler on the Roof" to MES. See it this weekend at SHS! @pbreenSHSpic.twitter.com/gHbnQrXAM9

— Teresa Ivey (@MontebelloEagle) March 20, 2017
The Suffern High School faculty team behind Fiddler on the Roof has worked together on past productions as a strong unit and includes Director Randy Schwartz, Music and Tech Director Danial McCarter, Choreographer Perri Hammershlag, Vocal Director Alizon Meyer, and Set/Crew Director Rich Murray.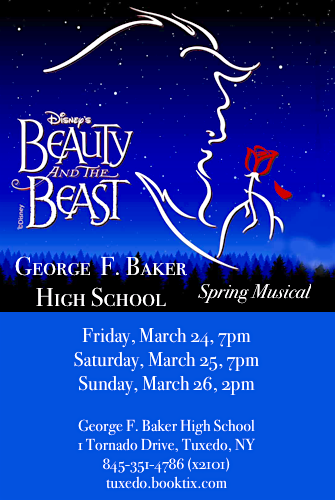 Meanwhile, in Tuxedo, the George F. Baker High School Spring Musical gets underway Friday night, March 24, at 7 p.m. This year will see Giselle, Gaston and the Beast, as the GFB musical program puts on the always popular Beauty and the Beast.
The show continues Saturday, March 25, at 7 p.m., with the final show a matinee performance on Sunday, March 26, starting at 2 p.m.
Tickets are now on sale for $11 general admission and $8 for students and seniors in the George F. Baker Main Office from 8am-3:30pm. The request is made that Senior Citizen Tickets and Student Tickets be bought at the school.
Tickets online=$12.50 https://t.co/70Kr9UikR4
General Admission- $11.00
Tuxedo Student- $8.00
Senior Citizen (60+)- $8.00
845.351.4786

— MrSchrammel (@MrSchrammel) March 20, 2017