BackHome Antiques was bustling Saturday afternoon as word spread that the fun intersection of art and community was reducing inventory to zero.
The Tuxedo Hudson Company will be shuttering BackHome's building, the old IGA property, to begin restoration amid much new construction as the space is converted into a fresh foods marketplace and antique emporium, with some custom office space. The interior is expected to be gutted and rebuilt while the exterior restoration looks to retain some original building features, including stone corners and front facade style.
Corner anchor tenant BackHome has decided to liquidate its current collection. And the deals are real though going fast. Saturday saw a flow of faces as Darrell and Stephen sent out notice that the special sale will go through April 3.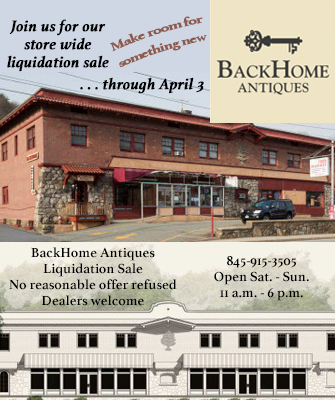 If you've had your eye on something, now's the time to visit the store. A lot of good things are available. Dealers will be walking through as well which means batch buying. The BackHome liquidation sale is one of those timely things you rarely catch but hear about.
It's a good collection with a lot of pieces — worth a Sunday stroll through.
The idea is for BackHome Antiques to return with a whole new collection as part of the new (yet-to-be-named, one thinks) Bruno building.