Now is the time for Village of Sloatsburg residents to get up, get involved and get excited.
The cry for traffic calming, safe passage and turning Route 17 into more of a Main Street that provides Sloatsburg with safe pedestrian walkways and "village feel" has been heard. Loud and clear.
The NYS DOT has presented a transformative opportunity for the Sloatsburg community to help re-design Route 17, beginning with a Tuesday, February 28, Public Workshop at Village Hall at 7:30 p.m. SLOATSBURGERS – THIS IS YOUR TIME  to stand up and get involved to help remake Route 17 to better serve the community.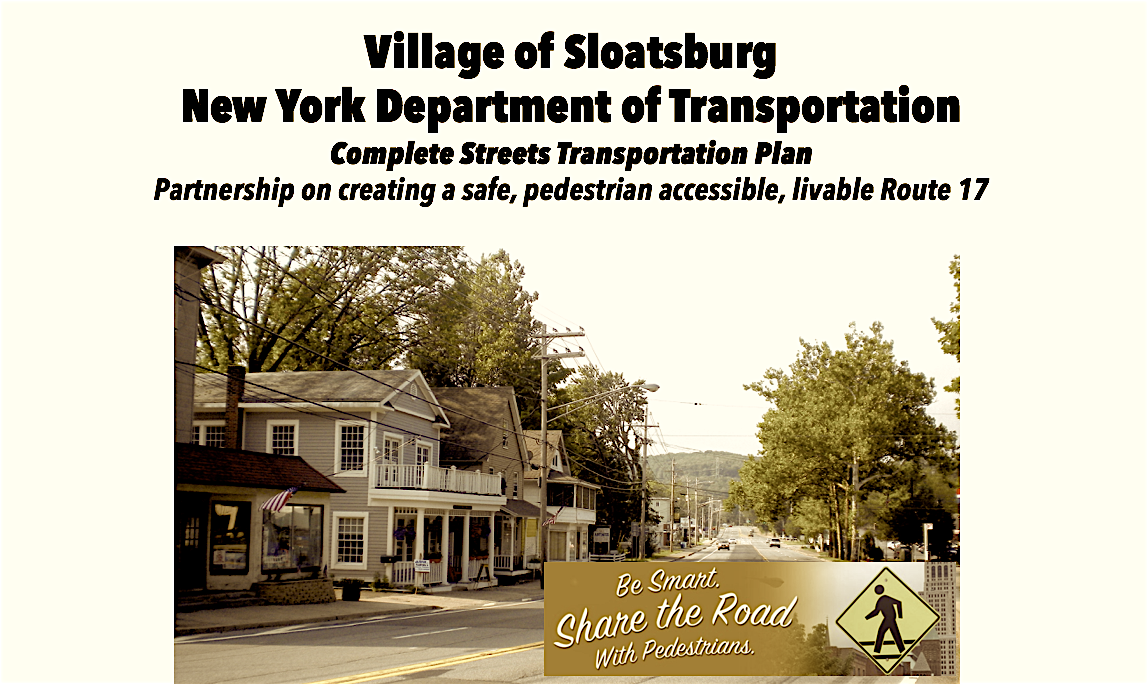 A bold opportunity was presented to Sloatsburg at a Tuesday morning, January 31, meeting between Village of Sloatsburg officials and the New York State Department of Transportation. Assemblyman Karl Brabenec's office attended as well, as did Village of Tuxedo Park Mayor Mary Jo Guinchard.
Sloatsburg Mayor Carl Wright called the DOT project "a new, exciting and dynamic approach."
"Residents of our comunity will have the opportunity to sit down with state officials to give their vision for Route 17, making the road safer and more attractive," Mayor Wright added.
The conversation was not just about paving Route 17 but about how to transform the highway through Sloatsburg so it provides a more Main Street configuration that helps enhance quality of life and economic opportunity.
The good news is that Route 17 through Sloatsburg will get every Main Street consideration by the state that any Sloatsburger could have hoped for — with the bad news being that Route 17 won't see action on the project, including full repaving, until 2019.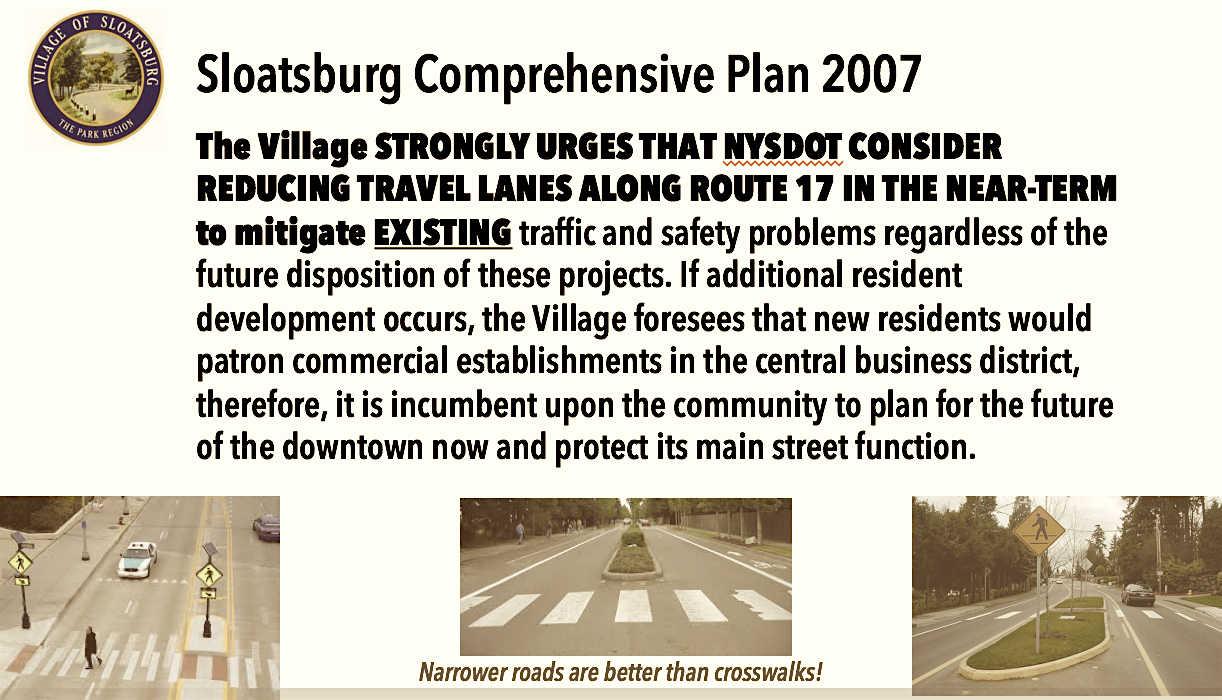 As with most things that happen in life, timing is everything. Same for this near generational opportunity presented to the Village. The current partnership grew from a March 2016 presentation by the Village and Sloatsburg Revitalization Committee to the NYS DOT about traffic calming and safe passage measures for Route 17 through Sloatsburg.
Sloatsburg Trustee and Deputy Mayor Peter Akey is liaison to the Sloatsburg Revitalization Committee and was also a member of the Comprehensive Plan team that helped blueprint the importance of Route 17 as Sloatsburg's Main Street — something he's consistently worked on to help bring about.
The Rockland County Sewer project also greatly contributed to opportunities for extended engagement with the DOT about Route 17  — Trustee Dan O'Leary has been instrumental in working with the Sewer District and Metra on the project. The steady advocacy of  the office of NYS Senator David Carlucci helped develop a sense of urgency and focus on Sloatsburg by the DOT.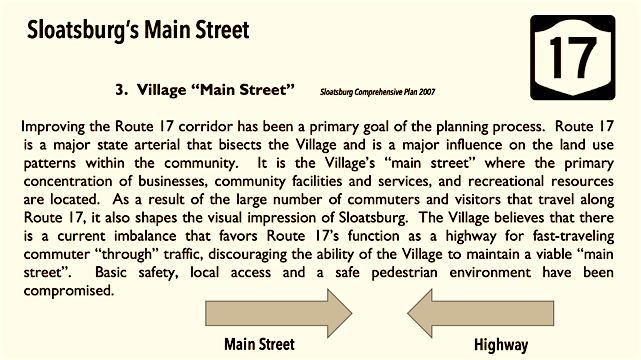 The proposed Main Street project was presented by NYS DOT Region 8 Planning and Program Manager Thomas Weiner and Region 8 Design Landscape Architecture/Environmental Manager Sandra Jobson, and offers the opportunity to approach Route 17 through Sloatsburg as a blank slate, with special focus on the center Village corridor. The DOT cobbled together Transportation Alternative Plan funds that have been added to the original re-paving plan to provide Sloatsburg with a comprehensive approach to Route 17.
Jobson said that everything is on the table to begin the process, from narrowing Route 17 to two lands, curbs, sidewalks, street lighting and landscaping, lower speed limit, bike routes, and any other improvements that might fit within the DOT project budget.
But Sloatsburgers must engage and help design Route 17 through the village. The process will include a series of three public workshops, beginning with the first set for Tuesday, February 28, at 7:30 p.m. at the Sloatsburg Municipal Building. The DOT has set an aggressive timeline that involves the three public workshops, a preliminary concept for June, with construction of the project set for sometime in 2019.
The first in a series of Route 17 Main Street Public Workshops takes place Tuesday, February 28, at 7:30 p.m. at the Sloatsburg Municipal Building. For more information, please contact the Village of Sloatsburg at 845/753-2727.