When Father John McKenna arrived at Characters Restaurant Saturday evening for a birthday night out, staff apologized that his table was unavailable and directed him and his dinner guests up the wooden front stairs, saying the dining room was crowded with a last minute booking. So the three slowly made their way up the stairs. When they entered the banquet room, McKenna was greeted by a loud cheer — "surprise" — from a room filled with friends and family gathered to celebrate his 90th birthday.
"I've reached 90," said McKenna after receiving a plaque from Sloatsburg Mayor Carl Wright. "I hope I reach 95." He then paused and smiled, palms and eyes momentarily raised skyward.  "I hope the Lord's listening."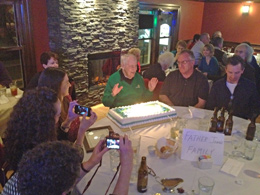 Father John McKenna has been a longtime Sloatsburg presence and pillar of the St. Joan of Arc Church community, who came to Sloatsburg in 1979 and said finding the village was a revelation. "When I reached Sloatsburg I thought I arrived in heaven," he said to the gathering. McKenna has been a member of the Joan of Arc community since his arrival, and continues as Pastor Emeritus and weekend assistant to this day. Fr. McKenna can be found leading Mass on alternating weekends, at either 12 p.m. or 5 p.m., at St. Joan of Arc, a California mission-style church located just off Eagle Valley Road in Sloatsburg. He also regularly hears confession.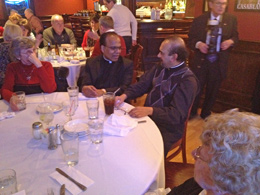 Teresa White and Sis Manning organized the birthday celebration, attended by Sloatsburg Mayor Carl Wright, Village Clerk and Treasurer Tom Bollatto, Planning Board member Tom Dodrill, Fr. Niranjan Rodrigo, who heads the parish at St. Joan's, and Fr. Joseph Emmanuel, leader of Our Lady of Mt. Carmel in Tuxedo. Mount Carmel spun off the Sloatsburg congregation by purchasing land to build a new church back in 1922. St. Joan of Arc Church was dedicated in Sloatsburg on May 30, 1924, the day of commemoration for then recently beatified Joan of Arc, the church's namesake.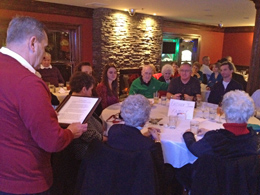 Mayor Wright extended congratulations to McKenna on behalf of the village, giving him a plaque in recognition of his long service, citing Fr. McKenna's devotion to parish and community, and his rich inspirational life. Then Wright announced: "By the authority vested in me as Mayor, I hereby declare Monday, February 13, 2012 as Fr. John McKenna Day in the Village of Sloatsburg."
The room erupted in cheers and applause, and a shout of "does that mean Monday's a day off?"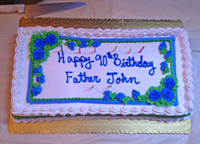 After blowing out birthday candles, McKenna rose to share a few thoughts.
"A friend of mine was celebrating his birthday," said McKenna, with a knowing smile. "And after blowing the candles out, his friend asked him — 'So, what did you wish for?' And he said, 'Well, I wish I wasn't here.'"
"I've reached 90," McKenna said warmly to friends and family after receiving his plaque from the mayor. "I hope I reach 95." He then paused, palms and eyes momentarily raised skyward.  "I hope the Lord's listening."