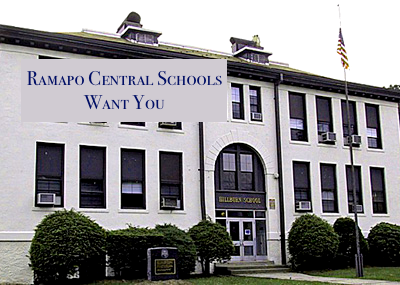 Calling on Sloatsburgers. Put your thinking caps on and get active.
2017 will see two seats open on the Ramapo Central School Board, and what better way to serve your community than to invest in helping improve and protect local schools?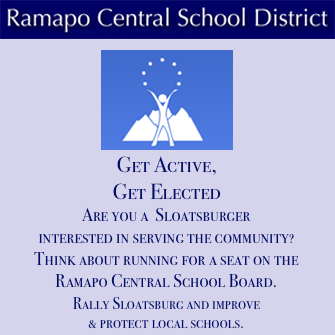 Sloatsburg Elementary School is a treasured asset nestled in the Village of Sloatsburg. It serves as a beacon for young families who understand the benefits of the award-winning Ramapo Central School District, which regularly sees students graduate and go on to success in colleges large and small. Many begin that journey at Sloatsburg Elementary School.
The Village has had a public school serving the community since back around 1870 … and a Sloatsburger on the RCSD Board of Education will help ensure our little school house stays healthy and strong far into the future.
Since Village Clerk and Treasurer Thomas Bollatto retired from his long service on the BOE in 2015, Sloatsburg has been without representation. It's time to change that.
Sloatsburg needs a voice on the RCSD BOE, especially when the conversation periodically touches on district kindergarten enrollment — and which schools are gaining and which are losing numbers.
As an aside … any current board member who has ever discussed consolidation of elementary schools as a way to improve future district fiscal vitality has no place on the RCSD board. That's parochial thinking and dangerous to the future of the district.
Let's do a twofer Sloatsburg. Spring 2017 is just around the corner.
Regular Board of Education meetings are open to the public and generally held at 7:30 p.m. on the first and third Tuesday of each month at the Administrative Building in Hillburn. Please be sure to verify meeting dates, times and locations prior to the event, as circumstances may arise that require a Board meeting to be moved or rescheduled.