Sloatsb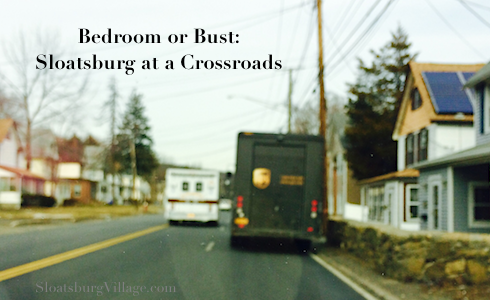 urg residents have received their official Complete Streets Public Workshop 1 announcement from Mayor Carl Wright and the Village Board. Next up is the first Route 17 Sloatsburg Complete Street meeting on Tuesday, February 28, at the Municipal Building.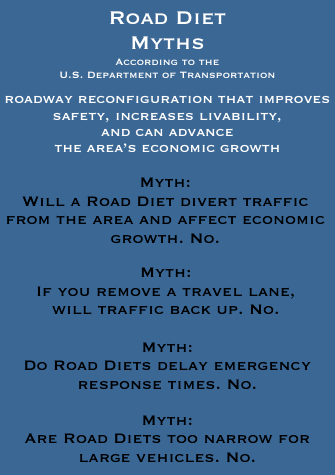 The workshops should be momentous for Sloatsburgers, who have long sought to calm traffic along Route 17 through the village and figure out how to safely cross the street. The New York Department of Transportation has provided the village with a big step toward a Complete Streets solution for some of its fundamental Route 17 issues.
In a nutshell, Complete Street is part of a NY State law passed in 2011 that promotes roadways designed for the safe, convenient access and mobility of all roadway users of all ages and abilities. Complete Street roadway design features might include sidewalks, lane striping, bicycle lanes, paved shoulders suitable for use by bicyclists, signage, crosswalks, pedestrian control signals, bus pull-outs, curb cuts, raised crosswalks, and traffic calming measures.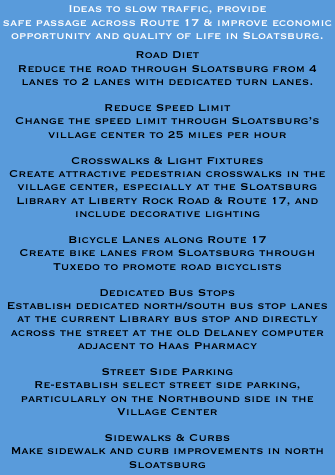 Complete Streets projects are usually funded either by a municipality or in partnership with the NYSDOT. The DOT will fund the initial phase of Sloatsburg's project, which will make major improvements in ease of use for bicyclists, pedestrians, public transportation riders, and local motorists using Route 17.
Sloatsburgers are encouraged to participate in the NYSDOT Workshops to help set priorities for Route 17 improvements.
The first in a series of Route 17 Complete Streets Public Workshops takes place Tuesday, February 28, at 7:30 p.m. at the Sloatsburg Municipal Building.
For more information, please contact the Village of Sloatsburg at 845/753-2727.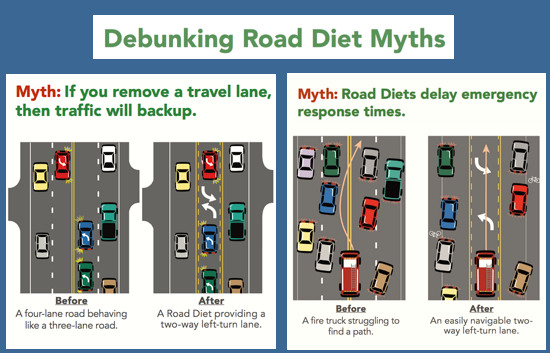 #CompleteStreets improvements on #Route17 thru #Sloatsburg cld include: road diet, curbs & sidewalks, bike & turn lanes, crosswalks @NYSDOT pic.twitter.com/EWJAyIJ8Tb

— Sloatsburg Village (@Sloatsburgny) February 23, 2017