The Village of Sloatsburg recently celebrated veterans at a Village Board meeting. Richard Jarco was in attendance, with other veterans from across Rockland County, and Sloatsburg Mayor Carl Wright made special acknowledgement of Jarco, himself a Korean War army veteran.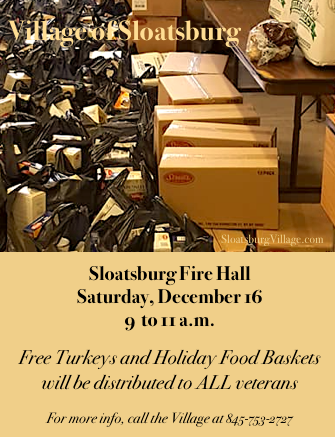 Jarco has taken up the plight of veterans in need during the past five year by holding a series of holiday veteran food drives at the Sloatsburg Fire Hall.
Jarco took a liking to Sloatsburg and its strong historical support of veterans and vet issues, and that's where you'll find him on Saturday, December 16, when the village hosts a Jarco-sponsored Veterans Holiday Food Basket giveway.
The food giveaways include turkeys, packaged meats and cheeses, potatoes, cranberry sauce, vegetables, desserts, snacks, and other holiday-related food items. All members of the armed services are available to participate in the free food basket giveaway. Just show up and present yourself.
The Village of Suffern participated in the recent Thanksgiving veteran food giveaway, by hosting a its own holiday food basket.

Through his Veterans Angels Association, Richie Jarco has held holiday veteran food giveways in the Village of Sloatsburg for some five years now. In the above video, Journal News videographer Mark Vergari captured a bit of Jarco's cause. during the recent Thanksgiving holiday food giveway. Jarco and volunteers will be back on Saturday, December 16, for another holiday gift basket giveaway to ALL veterans.Video via Mark Vergari/LoHud
Sloatsburg has rallied around Jarco's effort, with member of the Sloatsburg Fire Department helping to organize and turn out other volunteers during the holiday food giveaways. But Jarco, now 81 years old, could use additional volunteers and other in-kind contributions to help continue the cause.
Call the Village of Sloatsburg main office number at 845-753-2727 if you'd like to help with Richie Jarco's veteran holiday food giveaway program.
The Veteran Holiday Gift Basket is open to ALL veterans and takes place on Saturday, December 16, from 9-11 a.m. at the Village of Sloatsburg Fire Hall.