When:
April 27, 2017 @ 7:30 pm – 9:00 pm
2017-04-27T19:30:00-04:00
2017-04-27T21:00:00-04:00
Where:
Sloatsburg Municipal Building
96 Orange Turnpike
Sloatsburg, NY 10974
USA

Contact:
Village of Sloatsburg
845-753-2727
Sloatsburgers have the opportunity to shape the future of Route 17 through the village. All they must do is show up and participate in the 2nd New York Department of Transportation (NYSDOT) Public Workshop.
BE A PART OF THE SOLUTION … participate in the 2nd DOT Complete Streets Public Workshop. Attendance is a must if you'd like a voice in identifying traffic calming solutions along Route 17 through Sloatsburg. The 2nd Complete Streets Workshop takes place Thursday, April 27, at 7:30 p.m. at Village Hall.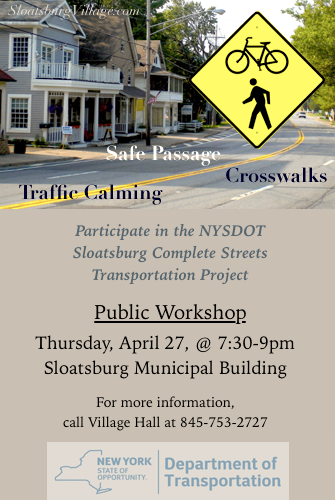 The Village of Sloatsburg and the New York State Department of Transportation continue with the 2nd of three public workshops to gather input and develop Route 17 traffic calming solutions for the Sloatsburg Complete Streets transportation plan.
This 2nd workshop will continue from the 1st and develop a consensus of solutions for the primary issues Sloatsburgers identified in the 1st workshop.
Traffic calming solutions might include crosswalks, bike lanes, lowering the speed limit, or even narrowing Route 17 through the center village to two lanes, with a third turning lane that provides safe turn lanes along the road.
The Public Workshop will be led by Sandra Jobson, from NYS DOT Region 8 Design.
Sloatsburg residents are encouraged to attend.
#CompleteStreets improvements on #Route17 thru #Sloatsburg cld include: road diet, curbs & sidewalks, bike & turn lanes, crosswalks @NYSDOT pic.twitter.com/EWJAyIJ8Tb

— Sloatsburg Village (@Sloatsburgny) February 23, 2017