Suffern Middle School students are using videoconferencing to learn about the ultimate act of bullying — genocide. In a project closely tied to the sixth-grade curriculum, Barbara Biddy and Jennifer Fruhling's sixth-grade classes are taking part in the One Million Bones project, a social arts project promoted by NYC-based nongovernmental organization Global Nomads, Students Rebuild and CARE International to bring attention to the humanitarian crisis in the Democratic Republic of Congo and Somalia.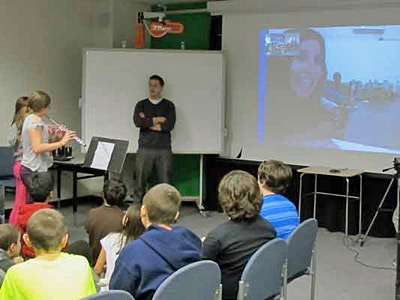 The project's goal is to use art to inspire activism. Suffern Middle School students, along with schools across the country, will collect artwork bones for a collaborative installation of 1,000,000 bones that will be viewed on the National Mall in Washington, D.C. from June 8th-10th, 2013.
"A lot of the work we're doing in humanities is about dealing with inhumane acts around the world," remarked student teacher Chris Wetzel. "Not just talking about it—but exploring what we can do to stop it."

"Participating in videoconferences like this is a powerful prompt for reflective writing," said library media specialist Eleanor Shuster, who is coordinating the project. "Genocide is the ultimate act of bullying; by encouraging our students to take action, they're learning not to be bystanders."
Suffern students will make and ship hundreds of "bones" made of newspaper to be included as part of the One Million Bones exhibit. Each bone contributed to the project helps earn money, donated by Amazon founder Jeff Bezos through the Bezos Family Foundation.

"It's more than connecting with other people," explains sixth-grade teacher Barbara Biddy. "It's reaching out to help. How can we invert the violence in the world into a triumph of understanding, caring and compassion? That's what we're trying to teach."
Students are participating in a series of videoconferences with representatives from CARE and members of the Somalia Youth Leadership Initiative to learn more about life in that region of Africa.
During a recent videoconference that was part of the project, Suffern Middle School students Emma and Nicole performed a song on flute and the Somali youth sang their national anthem.
Despite the absence of a functioning federal government, the Somali students spoke about the strength of local communities.
"We support each other in our search for peace: Somali for Somali," one participant explained.
The Somali students noted that their country has a single, dominant culture that contrasted with the multiculturalism of the U.S. One participant asked how, given such diversity, a woman wearing a head scarf is perceived in the U.S.
"It's not a big deal," answered Evan, a Suffern Middle School student. "We have people who practice a lot of different religions here."
Two other Suffern students, Paige and Michaela, fielded a question about education.
"We learn different languages, about our history and about things going on in the world around us," they said, speaking to other students half way around the world.
Information and classroom image courtesy of Jennifer Citrolo, Ramapo Central Schools.