Sloatsburg to the rescue.
According to an initial report by the Rockland edition of Newsday.com, a 21-year-old hiker camping out with a group of six or 7 people fell down a ravine early Sunday morning, July 15, injuring her leg. A 3 a.m.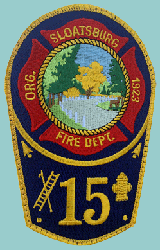 rescue call was put into the Sloatsburg Volunteer Fire Department, which carried out the early morning rescue. Sloatsburg Fire Department Chief Aniello Vacchiano said the department got the call following a 3:20 a.m. 911 call and a crew gathered their gear and, along with a Sloatsburg Emergency Medical Services crew, made their way into Harriman State Park by headlights.
Back on April 10, the SFD also dispatched a fire crew through Pine Grove Lakes and up to Torne Mountain to investigate a brush fire that burned out a lower ridge. For that fire call, the department used its rugged 15-ATV brush truck, a 1950s Dodge Power Wagon, originally a US Army military vehicle used for transporting troops and equipment.
Contacted Monday, Sloatsburg Mayor Carl Wright said that "the men and women of our Emergency Services certainly demonstrated their dedication and commitment by achieving this successful rescue. We owe all our volunteers a great vote of thanks and appreciation for their dedicated services."