With recent dry windy conditions, brush fires are breaking out throughout Harriman State Park and the tri-state area. Weather service sites have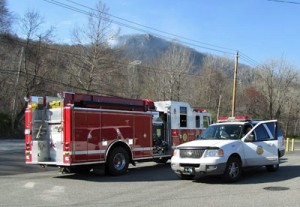 been running  weather bulletins this past week that alert special conditions extend as far south as Southern Virginia and north into New Hampshire. This past Sunday afternoon around 4 p.m. NY State park rangers were seen speeding through Sloatsburg, blue lights flashing, on their way to a reported fire that broke out on Torne Mountain. Hillburn's Fire Department also responded to the call and Sloatsburg was called in to provide mutual aid.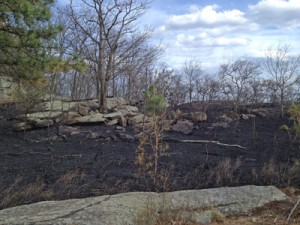 Sloatsburg dispatched a fire crew through Pine Grove Lakes, past the upper lake, using the department's rugged 15-ATV brush truck, a 1950s Dodge Power Wagon, originally a US Army military vehicle used for transporting troops and equipment. The fire department crew followed back trails through the woods to Beaver Brook, which meanders along at the foot of Torne Mountain. Another fire truck and crew dispatched to Torne Valley Road by the Weigh Station, where smoke could be seen rising from the mountain's lower ledge, just below Torne's crest. Sloatsburg's fire department was joined by Hillburn's and park rangers.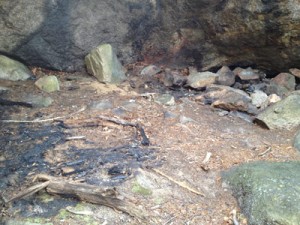 Earlier in the afternoon it was reported that a group of hikers was seen up on the expansive Torne ledge drinking beer in a natural boulder surround that forms an enclosure known as a popular hidden campsite by many locals. Shortly afterward, the smell of smoke wafted up over Torne Mountain. The enclosure's walls are smoke-stained from previous campfires but the surround was littered with newer charred wood. The New Jersey Department of Environmental Protection, which had issued "fire danger alerts" and campfire restrictions throughout NJ this past week, due to "prolonged dry and windy [weather] conditions," reported that "99% of all wildfires in New Jersey are caused by human activity, usually carelessness, negligence or arson."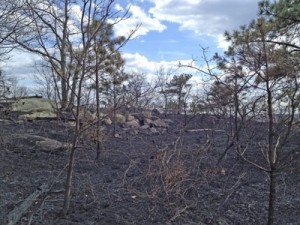 Both fire departments waited for park rangers' orders. After the rangers moved up the mountain and located the fire, the local departments were dismissed and rangers put out the ledge fire, reportedly spending the night on the mountain to ensure that the fire didn't flare up again from gusty winds.
A survey of the Torne Mountain ledge at the rock surround Tuesday revealed that much of the eastern ledge underbrush had burned away.
Sloatsburg firefighters are becoming very familiar with holiday calls, having been dispatched Christmas Day to a house fire on Johnsontown Road, where one firefighter was slightly injured.
Cover Photo Source: Geoff Welch
More At SloatsburgVillage
Up In Smoke — Sloatsburg's Fire Department responds to a sudden car fire in Pine Grove Lakes. As fire trucks arrived, loud booms from popping car tires could be heard in the neighborhood. Thick, choking smoke drifted downwind from the charred vehicle as masked firemen hosed off the car.
Ride To Rescue  – Hunter Potter's good friend Kyle Lynch convinced him to hang out as a volunteer Sloatsburg Volunteer Ambulance Corps, eventually catching rides with the ambulance rescue. Potter was 17 years old and those rides got him hooked on helping.